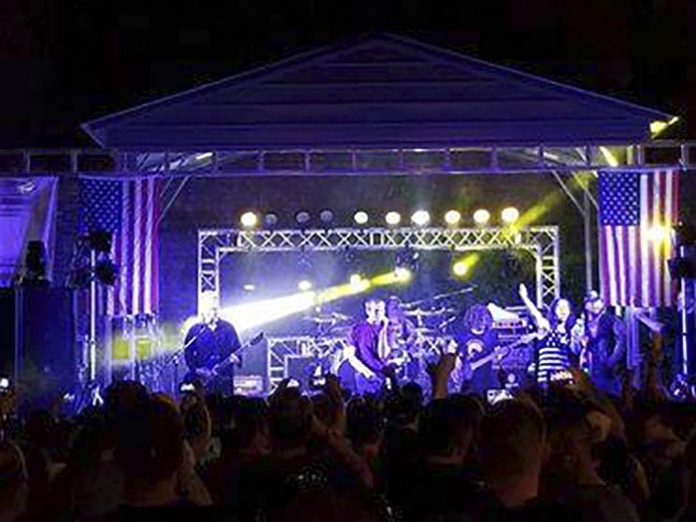 A pair of legendary grunge rock heavies teamed up for a once in a life one-off at a music hall 150 miles outside Chicago this July, and were support by some punchy looks from an equally powerful duo: The Intimidator Beam 350 LED and Intimidator Spot 255 IRC from Chauvet DJ. Fresh off their appearance on the Make America Rock Again tour, Puddle of Mudd and Saving Abel visited the Boiler Room, in Kewanee, IL for a sold-out show. Jeff Hinton, working for Jonny B. Enterprises, supported their intense non-stop 90-minute performance with a hard-hitting light show that featured 16 of the moving fixtures.
"These were big name artists for this town and this venue," said Hinton. "We wanted to create a light show that had a full production look, but we had a small stage and limited power. The Intimidators allowed us to create some impressive visuals despite this limitation, not just because of their output, but also due to features like their gobo capabilities, 3-facet prisms and sheer speed. Plus, since they're both LED, we didn't suck up a lot of power."
To create concert-like aerial effects, Hinton positioned two of the ten Intimidator Beams in his rig on large speaker cabinets located on each side of the small roofed stage. The remaining six beams were located on upstage goalpost truss. When not used for backlighting and audience abuse these fixtures also contributed aerial effects.
"We wanted a lot of action in the air, because it kind of underscored the big event nature of the show," said Hinton. "One of the nice things about the Intimidators is that they project this super tight beam. This really allowed us to get a lot of aerial looks up there from a relatively small space."
The six Intimidator Spot 255 IRCs in Hinton's rig were also flown on the goalpost truss, but on a higher level than the beams. This dual level arrangement added texture to the stage. Hinton also relied on the spots for specials on band members and crowd lighting.
"Lighting the crowd created a connection between them and the artists," he said. "I think the band members liked our crowd lighting, because the lighting accented the closeness they had to the audience in this smaller venue."
Connecting to audiences is something that Puddle of Mudd and Saving Abel have done quite often and quite well in their long careers, which began in 1991 and 2004 respectively. Both bands have played at major venues, but the energy, enthusiasm and lighting at this small Illinois stop on a warm July night was as good as it gets.