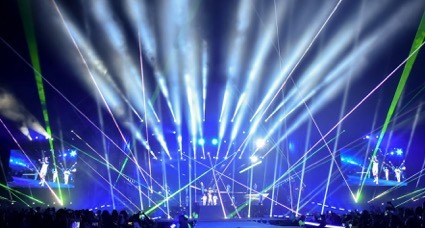 When Justin Bieber's Purpose world tour visited the Hard Rock Hotel in the Dominican Republic earlier in the year, BM Eventos provided the Elation Platinum 5R fixtures.
LD Cory FitzGerald had 120 of the pioneering beam fixtures at his disposal to provide eye-catching barrages of thick beams from positions in the overhead rig, stage front, right and left, and from the walkway. "It's been a very important lighting fixture in the industry for many years with excellent, proven performance," stated General Manager Edwin Belliard of BM Eventos, the Dominican-based rental company responsible for assembly of the lighting and lighting control system for the show.
"The Platinum Beam 5R gives a lot of quality at a low cost. On the Justin Bieber show here in the Dominican Republic, there were no setbacks with the fixtures and the lighting team was super happy with the whole system," added FitzGerald.
Bieber's Dominican Republic show wasn't the only tour stop in which Elation fixtures got involved. In 2017, Elation dealer Star Dimensions supplied 140 Platinum Beam 5Rs, 24 Platinum Beam 5R Extremes, 22 Rayzor Q7 LED moving heads, and 38 SixPar 300 LED Par lights for the Canadian star's show at DY Patil Stadium in Mumbai, India.