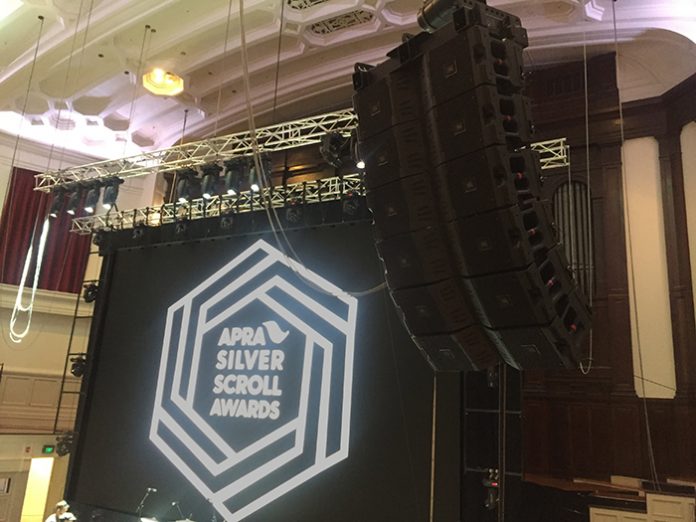 New Zealand's annual music awards ceremony, the APRA Silver Scrolls Awards, has been held in Dunedin, Dunedin Town Hall, with Lorde winning the 2017 APRA Silver Scroll Award for her international hit song Green Light. Specialist event production company RB Productions coordinated the event, while AV production company Strawberry Sound Hire supplied audio for the evening.
David Craig, Sound Engineer for Strawberry, handled all audio management for the event. "It is a corporate awards gig, yet still a rock 'n roll show as you are handling a number of live bands and artists over the evening," he said. "So the PA system that you need should smoothly handle speech as well as the music dynamics of a band. One also needed to take the tricky acoustics of the venue into consideration."
Due to the acoustic requirement of ensuring accurate and even coverage and the nature of the gig, a JBL VTX line array system was supplied. The audio system featured a total of 12 JBL VTX V20 line array elements – 6 per side for the main PA. 3 JBL VTX G28 subwoofers were deployed per side in a cardioid configuration and 3 VT 4886 subcompact line array elements per side were ground stacked and used as stage fills, while another 2 single VT 4886's were used as a mono infill.
As there was very little rehearsal time, no in-ear monitors were used. JBL SRX 712 loudspeakers were used for on-stage monitoring with a total of 7 monitor mixes. The audio quality produced onstage ensured that the levels in the venue were under control, which made it easier for leading sound engineers Kevin Bennett (monitors) and Chris Tate (FOH) to keep the artists happy and provide a clean mix for FOH.
Kevin Bennett was happy with his choice of console for monitors. "I was given an option to use a number of digital consoles and opted for the new smaller format Soundcraft Vi2000," he said. "As a digital console it is much faster to navigate and operate, has superb audio quality, it is dependable, and I suppose my love of the BSS [Audio] DPR901ii Dynamic EQ helped to sweeten the deal! This was the first opportunity I had mixing with the smaller format Vi and I have to say that the Vi2000 is now my go-to console."
All loudspeakers were powered by Crown Audio V-Racks, which included Crown I-Tech 4x3500HD models with Crown's DriveCore technology. System management and control were handled with JBL HiQnet Performance Manager software.
"Planning for this show from an audio perspective can be quite hectic as we received the riders a week before the event," David Craig explained. "The new updates in Performance Manager are awesome as they allowed us to do so much planning before the venue. Performance Manager and Line Array Calculator saved heaps of time and energy and very little change was needed once we were in the venue."
A Soundcraft Vi3000 digital console was used at FOH and mixed by Chris Tate. The show was broadcast on radio and television, so audio was split via MADI with a 300m fibre cable run to an iso-room where the feeds were mixed for broadcast.
"Mixing multiple bands and artists in a show like this keeps us on our toes and mixing on the Vi3000 console really simplified the production process," said Tate. "Workflow is great, using show cues, patching of channels and arranging tie lines is a breeze. I enjoy how the Vi3000 is easy to clock-sync with other products while MADI provides for an efficient audio distribution solution."