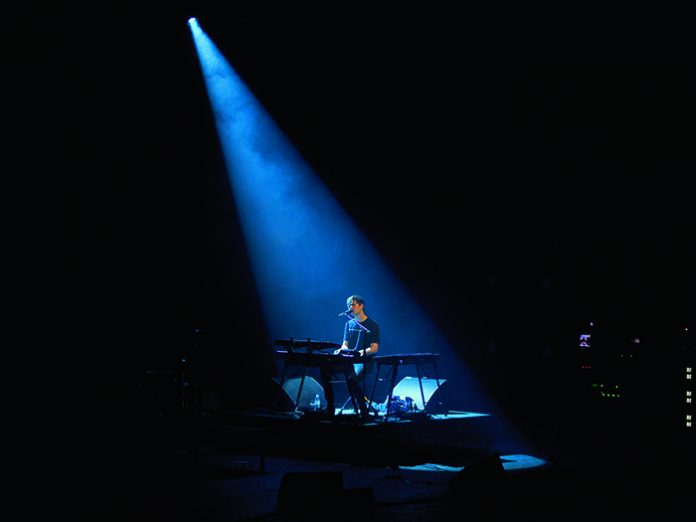 In the last few years, we have witnessed an undeniable proliferation of electronic music into the mainstream. Greater accessibility to software and MIDI enabled interfaces has ushered in a musical milieu in which you are just as likely to see MacBooks on stage as you are guitar cabs. However, if you want to experience an artist pushing the boundaries of electronic music, then look no further than James Blake. The young British singer / songwriter-come-producer has thrown electronic music the rulebook out of the window, opting instead to turn away from the laptop-driven live show. Aided by a virtuoso drummer and guitarist, classically trained Blake produces electronic tracks with just a piano. The release of his third album, The Colour in Anything, suggests the singer has no plans to change his ways. After a successful US run, the tour returned to UK shores. TPi checked in with the creative crew responsible for producing the visual and audio.
PRODUCTION
Commanding Blake's production was Tour Director and proud Mancunian David Lawrence of DNG Production. After dragging him away from the United game [sorry again, Dave] we discussed The Colour in Anything tour and its development. "The idea behind this tour emerged over a period of 12 months. It all began during a conversation with United Visual Artists (UVA), who worked on the design of the tour. Throughout the summer we did several festival dates on which we trialled different elements, which we then took indoors on the US run."
Here, Blake and UVA were keen to push their stage show further than ever before. This included a gigantic video back wall that blended seamlessly into the lighting and set design, courtesy of long-time collaborator Christopher Bushell.
"One of the biggest considerations we took into account was the scalability of this show," said Lawrence. "In the States we played 1,800 capacity venues, all the way up to 5,000 and it has been a similar story in the UK. But the goal from the beginning was not to compromise the look of each show, meaning each department needed an A and B option while still staying true to the original design." Lawrence went onto explain the team that amassed around Blake is composed of the perfect men and women for the job; able to adapt no matter the size of venue.
As well as showcasing their malleability, this crew also had to adapt to the unpredictable and organic nature of Blake's live show. "James has always been proud of the lack of laptops and timecode," commented Lawrence. "In an age of electronic heavy bands all using a variety of computer systems, it's nice to have a 'live' band doing this style of music. That's what makes this show so special; the whole audience can see exactly what is going on." Bushell finished the thought: "There really is no safety-net when you work this way. The reason this show is so impactful is that our audio, lighting and video departments sync up seamlessly. It's down to everyone working on the show to throw themselves into the performance."
VISUAL CUES
"James and his Manager, Dan Foat, were hesitant about the idea of having video within the live show," said Bushell, while discussing the visual elements of this spectacular display of audiovisual teamwork. "The sudden U-turn came about when Blake and his production saw Kate Bush's latest show. Their wheels started turning. They realised that you didn't necessarily have to use a huge video screen throughout the whole show. Instead, we use the LED screen as a giant canvas, only picking bits out of it when necessary."
From the outset, the integration of the lighting and video departments has been a keystone of this live show. However, to succeed UVA needed to fit one vital piece of the jigsaw as Bushell explained: "It was necessary to find a fantastic operator who could drive the d3 server. Thankfully we found one…"
Enter Icarus Wilson-Wright. The last time TPi met Wilson-Wright he was manning the video screens for UK electro duo, Disclosure. But this time, we encountered the Content Operator tackling a different beast: producing video content rendered live on the spot. "This show has been incredibly interesting to work on. I was brought on board in September and immediately realised the challenge it represented," said Wilson-Wright, adding: "There is no timecode on the show so I have to follow along with the arrangements live, which means manually moving the elements in and out."
For The Colour in Anything, Wilson-Wright was running 2x2plus d3 Technologies servers with the Notch system piggybacking on the media server. "This set up means I am able to work within a 3D environment in the server. All the content is rendered live rather than simply playing back pre-rendered content. This gives me the ability to change the parameters of my screen depending on the size of venue we are working with and how big the LED screen is for each show. No matter the size of screen, it looks as though the content has been generated for this specific canvas."
Wilson-Wright has worked with d3 media servers for several years even before it was a commercial product and still a project run by UVA. "d3 has been ideal for this project as it has some really useful functions," Wilson-Wright explained. "The server has an element called universal cross fade whereby you can set the transition between the elements. So if I'm jumping on a timeline and it's not a hard cut, I can get a soft transition from one element to another. This has been vital as sometimes there is a change in tempo and I might be slightly out of sync, but with this function I am able to catch up with the music without the visuals changing and jarring the audience.
For the LED screens the production deployed Winvision Air 9mm. Video Supplier and Rigger, Carl Martin of Digital Vision, talked through the decision to deploy the screen. "The brief dictated it would be lightweight and incredibly bright. There was also a need for an LED solution that could be both ground supported and flown. The screen is designed for the outdoor environment so it is very bright. It's perfect for this tour as some of the content is quite strobe-heavy and blinding."
TPi asked Bushell about the overall look of the show. "I suppose you could say it's quite minimalist. It's about lighting a source rather than showing off the latest moving fixture. Both the video department and I focus on experimentation with shadow and negative space.
"The Colour in Anything is a really fun show to work on. I am always passionate about lighting live and – although I do have a few cues in place just to make sure I lock on with the video – the majority of the show relies on the unique atmosphere of each day and I light the room accordingly."
The shows' lighting was supplied by Lights Control Rigging, the new live events specialist owned by veteran of the lighting industry, Mike Oates. "We have worked successfully with Blake's Tour Director, Dave Lawrence, who brought us on for this UK run," explained Oates. "For the tour, LD Chris was very specific with his fixture list because of the unique design of the show and how it would stand out. We really enjoyed working Dave and the whole touring team. They have produced an exceptionally vibrant and beautiful looking show where video and lighting really worked well together."
Stated Bushell: "Lights Control Rigging have provided us with a large array of Martin by Harman products including 10 Martin Viper Profiles and 10 Martin MAC Quantum and 20 Martin MAC Auras. For the entire performance, Blake and the other two musicians played from individual square risers. "This stage set up makes it a dream to light," Bushell enthused. "They don't move around and it's a great starting point to start developing looks. It eliminates tricky variables throughout the set."
Illuminating the three structures from above were the GLP impression X4 Bar 20's. "They are pretty much the only fixtures which definine the square risers along with the Martin Aura XBs which we clustered inside the squares to light the subjects within." Also present on the rig were seven SGM Q-7 and 12 ETC Source4 PARs.
For control Bushell opted to use an Avolites Quartz Lighting Console. "I personally own a Quartz console with a Titan Mobile Wing, all nicely packaged up in the custom Avolites wheelie case," he said. "Together, they give me enough control options to tweak, fuss and hit stuff moment by moment – all whilst still packing down nice and tight for air travel and dragging through festivals."
The compact Quartz console is the latest and smallest addition to the Avolites Titan Mobile family coming complete with on-board processing and a bright 12.1 inch screen, yet small enough to be taken as hold luggage. For the tour Bushell combined the Quartz with the Titan Mobile Wing giving him direct access to a range of powerful features. "I love an Avolites desk because it's an art desk, not a maths desk," concluded Bushell. "I can mix stuff around, manipulate and tweak – and everything stays where I left it. I tend to set up a series of elements track by track – from simple cues to convoluted nonsense – rather than stack them on one big red button. This keeps it all live and adjustable giving me the ability to reflect the changing venue atmosphere, and reflect the vibe of the band and even the audience."
AUDIO
Those who revel in pigeonholing artists might struggle with Blake who has refused to be constricted by one specific genre throughout his career. From neo-soul material to dubstep by way of dream-electronica, Blake is a rare breed of musician who can entertain a broad spectrum of fans.
Responsible for recreating the soundscapes synonymous with the singer's back catalogue was FOH Engineer, Jamie Harley and Monitor Engineer, Francoise Le Moignan. Their equipment was supplied by Skan PA. From FOH Harley walked us through his analogue set-up, starting with a Midas Heritage 3000. "I actually inherited this audio setup from the previous FOH engineer," began Harley. "As a producer James has a real love for analogue gear and I was more than happy to take on the mantle of a full analogue FOH set up. It sounds fantastic and it's really refreshing not to be staring at screens and to just mix freely. I have really enjoyed the fidelity of the whole experience."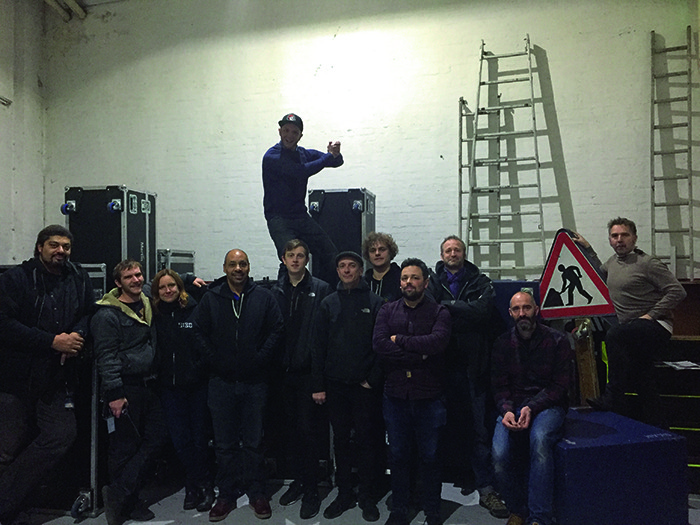 If his large analogue desk was not enough, Harley also had a whole array of outboard gear to ensure he was able to recreate the signature Blake sounds. Some rack highlights, which Harley directed to Blake's vocals, included the Empirical Labs Lil Freq and the Empirical Labs Distressor EL8-X Compressor. "The Lil Freq is great," announced Harley. "It's a hyper acute piece of kit and you can get it down to do some really fine cues. The Distressor, in my opinion, is one of the finest compressors on the market. I have also deployed the Mercury7 Reverb, which has been really great for the vocals. Another bit of outboard is the Elysia Mpressor in the 500 unit, which is great. It's a very transparent compressor that keeps everything under control. It also deals with the low end really well. I used it throughout the summer and have adopted it for the drums."
As expected of a musician / producer, Blake had clear instruction for the man at the helm of the FOH console. "The main goal is to recreate the songs from the album as true to form as possible. During production in the States we honed these sounds. With that being said, they are a live band and they do vary from night to night. I am certainly not mixing a playback track and have to be adaptable. This is across the board for all departments; we must expect the unexpected." Embracing the versatility and variable venue sizes, Harley explained that he had to think on his feet about what mix would resonate with which audience. "For this run we have played everything from clubs to amphitheatres. I always pride myself on mixing from a very emotional point of view and you have to really take notice of what environment you are in."
Harley concluded by hailing Skan PA: "I have worked with the company a few time before this – including a run with Hot Chip. For this tour their service has been fantastic! A few members of their team turned up to my house when we returned from the US leg of the tour and within a few days had produced an incredibly tactile FOH rack system. Everything is right in front of me and it's been nice to build up a muscle memory of where all my various elements are, compared to the alternative of flicking through several pages on a digital console."
As well as an audio control package, Skan also provided the Brixton Academy show with a d&b audiotechnik J-series PA system.
Controlling mix stage side was Monitor Engineer Francoise Le Moignan. For the tour Skan provided the engineer with a DiGiCo SD10-24. She filled in the gaps: "I have worked with Skan for over 15 years and have a fantastic relationship with the guys over there. For this tour they provided me with a really nice, slimmed down control package – which is precisely what I need. One thing I really respect about the company is the effort they put into make sure they provide you with a really tidy set up." With three musicians on stage, Le Moignan was only juggling 23 inputs, all of which were transmitted from a rack of Radile DI boxes at the centre of the stage. "This really is not a big show in terms of channel count, so the set up I have here is perfect for what I am trying to achieve. I have used DiGiCo desks for over four years now and have become incredibly comfortable with them. I love the onboard reverb so there is no need for me to cart around any outboard gear – leave that to Harley!"
Blake's studio background no doubt sees him regularly donning a pair of headphones, so it might surprise readers to know that the musician does not use IEM. "It simply does not interest him. He always says that he likes to hear the room when he performs," explained Le Moignan. "To be perfectly honest, I only stated mixing with in-ears this year so to be given a rider without them spec'd was not a worry for me." For stage sound, Skan provided a wedge package of d&b audiotechnik M2's with a V-Sub for the drummer. "We are running all the M2's in stereo as all the samples that are triggered live have been recorded in stereo. Playing them in mono would really lose the quality. James' various keyboards also sound much nicer with a stereo mix."
Capturing Blake's soulful voice was the DPA d:facto vocal microphone. The decision to use the d:facto originally came from FOH Engineer, Harley, who said: "We needed a great live microphone that could clearly deliver James' sound without unwanted ambience, especially as he does a lot of vocal looping on the fly. The d:facto is solid as a rock with a tight polar pattern for on stage vocals. It allows our monitor engineer to achieve a fantastic, clean vocal sound for James and a superb sound all round. It is the perfect microphone for this kind of music, which has a lot of space around it for the vocal to sit in. It's also very solid and you really notice the difference between d:facto and some of the 'old faithful' that we used to use." Le Moignan echoed the sentiment, adding: "The d:facto has been great. Even though it's a condenser microphone, it has a really tight pickup."
KEEPING IT MOVING
Ensuring the safe and timely arrival of Blake and crew to each venue was coach specialist, Jumbocruiser and trucking kings, Fly By Nite.
Owner of Jumbocruiser, Steve Lee, commented the company's involvement with the tour: "We always consider a successful tour to be one where the crew can't remember either the bus or the driver meaning we just get on with the tour and it goes like clockwork. We have worked with Dave for a number of years with Massive Attack, Bloc Party, and Billy Ocean. As long as his people do not have cause to remember our coaches, hopefully we will do many more year's work for him!"
Fly By Nite have also had a long-standing relationship with Lawrence and Blake himself: "We go way back with Dave and we've worked with James Blake since he started production touring in 2013," commented Fly By Nite's Matt Jackson. "His first full production run was in 2014 and we've built our relationship throughout his career, as and when he's needed trucking, including festival dates. For this tour we supplied two artic trucks with Dave Coon handling the account."
With The Colour in Anything tour fast-approaching its end and 2016 pretty much wrapped up for James Blake, the question remains: When will we next experience the talented musician and his creative crew back in action? Although Lawrence remained tight-lipped regarding future dates, the response this live show received on both sides of the Atlantic has been glowing. There's no doubt that the audio-visual feast will be back on the menu again soon.
TPi
Photos: Sarah Rushton-Read 
https://dngproductioneventcrew.wordpress.com