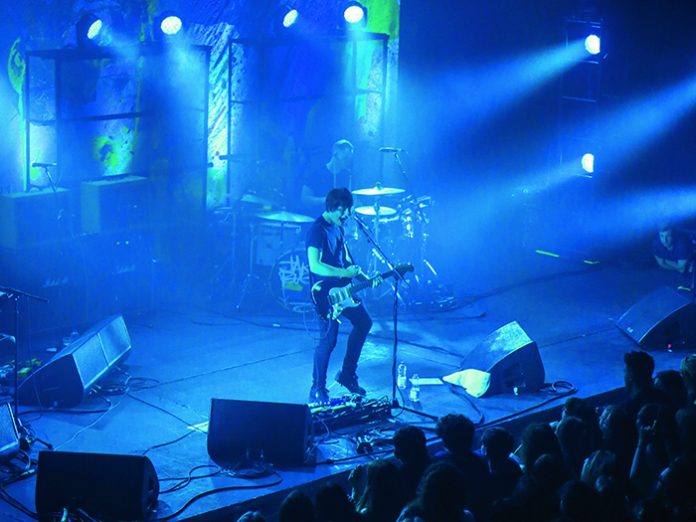 Despite once again refining the show design and updating the technology at the centre of Jake Bugg's touring production, the consistency from the artist's close knit crew has ensured that the honesty of his show remains as present as ever.
Having cut his teenage teeth before a crowd of thousands at Glastonbury 2011, Jake Bugg has certainly earned the right to employ a bit of restraint despite his still tender years. As a result, the singer / songwriter chose to begin his 2016 tour with a sonically and visually minimal selection of acoustic songs, before the more traditional indie rock show kicked in.
Lighting Designer Stu Farrell explained: "The first four tunes are Jake and an acoustic guitar, so we only use two lights on him, one rear spotlight and little bit of side-light to illuminate him. We sometimes throw in some blinders when the crowd cheer, but the first section of the show is really stripped back. When the band comes on we truly light it all up, and this creates an awesome atmosphere. The show's lighting design looks really nice – I really like the side-light so we're using that a lot as it creates a nice look and gives Jake the opportunity to move around if he wants to."
Utopium supplied flown fixtures and a custom floor package for the tour. This included Martin by Harman MAC Quantum Profiles and MAC Aura XB Washes on the floor to offer additional brightness and tighter beams, as well as Martin by Harman Atomic 3000 Strobes, James Thomas Engineering 4-Lite molefays and SGM P-5 LED Floods. The flown package incorporated more MAC Aura XB Washes, Quantum Profiles and Atomic Strobes, this time with JTE 2-Lite molefays. Antari HZ500 hazers and AF-3 fans were also deployed to create a light-friendly atmosphere. Utopium supplied a High End Systems Road Hog 4 desk for lighting control.
Jon Newman, Project Manager at Utopium, commented: "We were waiting for the right moment to invest in these lights and the Jake Bugg tour seemed exactly this, enabling us to match the creative requirements of Stu and the production team. These new compact LED washes not only bring improved sustainability, which we're finding more of our clients are asking about, but they can be easily transported and offer less weight loading, so they are perfect for tours. The new kit looks great and we're really happy to showcase it on Jake Bugg's latest tour."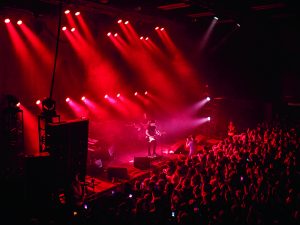 Farrell added: "The new kit supplied by Utopium has been ace and the equipment is a really good mixture of functionality and compatibility. It's all LED so it doesn't require as much power, which is great for everyone."
The back of the stage was lined with five gauze panels that lit up throughout the show. Farrell explained: "The full rig consists of five dollies on stage that we had made a couple of years ago for a previous tour. We decided to recycle them, originally with the idea to use them to hang video but we changed this at the last minute and turned them into gauze panels that line the back of the stage. These are lit with the SGM P-5's and coated with UV paint, we light them up at certain points throughout the show to get them to glow, which gives a really nice effect."
Visiting a host of different venues throughout the UK, the lighting rig has had to adapt to accommodate different sizes and roof loading capabilities. Farrell continued: "For the smaller venues we tend to take the end two dollies off and just use the three, which we've had to do a few times. I've programmed it so it can be flexible and this means it doesn't affect the feel of the show if the dollies are moved or removed; it's just a matter of scaling it up or down. There are also four upright towers on the side of the stage that shine side-light on the band and on Jake.
"On a few occasions we've had to ditch the upstage towers and just use the downstage ones. The smallest we've had to go in terms of floor package is three dollies and two towers. In the rig, it just depends how much width we can get. On a few occasions we've put our lights onto the in-house truss and in one show in Nottingham, his hometown, we used whatever they had in the roof as the venue was quite small, along with our own small floor package."
This is the first year Production Manager Rod Clay has worked with Bugg, having kicked off the relationship in January. He commented: "This has been a great tour to work on and we've had the opportunity to play in some really diverse venues. From Brixton Academy and Manchester Apollo to our hometown gig in Nottingham Rock City, all the venues have varied drastically in size. This has obviously brought certain logistical and technical challenges in order to cram two trucks of gear into the smaller venues, but it's worked well in the end.
"The main challenge has been bringing the equipment in through small doors, which is much more complicated than it sounds. One thing that Stu did was to adapt the heights of the towers, which has given us loads of flexibility. Being able to put in one tower or four towers has helped increase our versatility, as this can be adapted depending on the size of the stage, how much space we have and how much space the backline needs and so on. We've pretty much managed to put 90% of the gear in the majority of venues, which has been fantastic."
Clay continued: "I brought in the suppliers based on previous relationships and recommendations. Tourtech has always supplied audio, Fly By Nite has always supplied the trucking and the latest addition is a recommendation from Stu Farrell, which was Utopium. We're really happy with them; they've got great quality gear. We also have Phoenix Bussing keeping us safe on the road and Bitter Sweet Catering, who have been standout on this tour. This has been important for morale; we've had three excellent meals a day and it's the highlight for many of us – I'm always looking forward to what they've made. To cater for this amount of people in difficult conditions is hard, and they've maintained a high standard of food, which has been phenomenal."
FOH Engineer Nick Ingram has worked with Jake Bugg since the beginning. He said: "I started off working with the people around him, such as his manager who I knew from previous jobs. I got the call when Jake was only 17 years old. I had spent a few years working with more established artists so it was nice to be with someone new, young and exciting. That was in 2012 and it has been absolutely non-stop since."
Ingram decided on an L-Acoustics K2 from Tourtech to take care of the tour's audio requirements – a first for Bugg. Ingram commented: "This is the first time I've carried an L-Acoustics K2 but I've always been a fan, as I love the warmth and the open sound of it. I just think there is something about it when you have acoustic instruments, real guitars and drums and an organic kind of sound. We're using the K2 in the UK but when we go to Europe we leave the speakers behind and we just take the rest, which is our mixing desks, all our mic package, line system, monitors and everything on stage. When we get to Europe most of the venues are theatres with a PA permanently installed, and where they haven't we will spec what we would like from local suppliers."
He continued: "For FOH I use a Midas PRO2, which is my mixing desk of choice. I've been using one since I started with Jake, and I've used one for every artist I've worked with since then. I was never a fan of digital desks but then I am sort of from the old school, I love the analogue sound. I find that the Midas gives you the closest thing to that analogue sound, which for Jake is really important. I also use a load of Waves plugins, which everyone is into now. I use them on everything as they work perfectly with Jake's voice."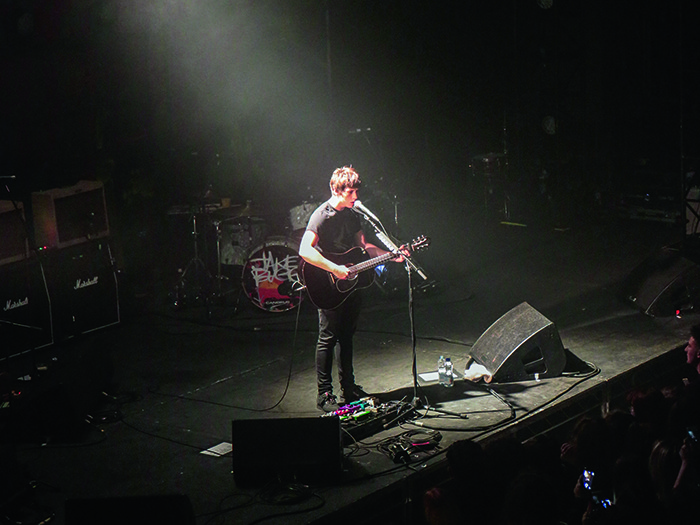 "This tour really has been one of Jake's best with the new kit, the plugins and the whole virtual record thing that we do now. I record each show and then when I get in the next day I play the previous night's show back through the desk and that's my sound check. Jake doesn't sound check anymore, so the rest of his band will get up for a bit and play but that's all I get until the gig. Listening back to previous shows and working from that has been a big change in the last few years and has really altered the way we do things."
The duality of Bugg's set was as much of a consideration for the audio department as it was for lighting, as Ingram explained: "It's been nice on this tour; Jake has gone back to having an acoustic section so you almost have to treat the show as two different shows. I have to think you could be in a busy venue on a Friday night with a loud crowd who are all getting excited and making a load of noise through the changeover, and I have to think that in 20 minutes Jake is going to get on stage and play an acoustic guitar. There are certain things you have to do to try and bring the crowd in with you and make it feel intimate and get them into that frame of mind."
He added: "The band then joins him and each instrument has its own unique tone and it's very dynamic. Making that all sit together is really quite difficult and it doesn't sit naturally like a normal three piece would – you have to find the right space and frequencies for each instrument to cut through. Jake also has a really distinctive voice, which is one of the things that makes him so great, but it seems to occupy the same frequency, 2-4kHz. If you're not careful, it can end up being quite overwhelming in that range so it's about finding the space for that without taking all the energy away. The Waves plugins help with this."
Paul 'Robbo' Roberts, Monitor Engineer, jumped on for the last six months of Bugg's previous tour and has been working with him ever since. He said: "I use an Allen & Heath iLive-T80 of my own on this tour because, when we started at the beginning of the year, we were doing loads of small promo shows and it's compact and comfortable to use. With the d&b audiotechnik M2 wedges there isn't anything that you can't do, so it was suggested to me by the lads that I bring it on the tour. I've used it on pretty much everything since I've owned it just for continuity's sake, and because its small, you can use it in a trailer in Europe as well as bigger venues. It's worked really well."
Jake Bugg's Cardiff University Students' Union gig marked the last UK stop for the tour, which headed next to Dublin and Central Europe. Once on the continent, the team were without the flown lighting package and the PA, choosing to utilise local suppliers and in-house rigs.
"We've got a very diverse team, from various disciplines, but it's been an easy mix as well," Clay concluded. "Most of us have been with Jake from the start so everyone gets on brilliantly, which is important when touring in confined conditions. We've just finished six weeks in America and Mexico and then we have a further four weeks in Dublin and Europe. We've had to deal with such differing circumstances and spaces that everyone has pulled together to get things done. If anyone needs a lift or a hand there is always help between departments."
TPi