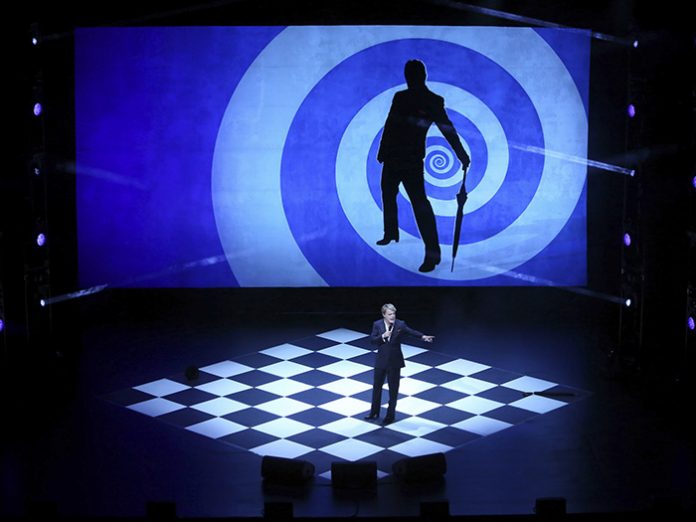 Eddie Izzard recently completed a hectic spring schedule, following up a four-week residency at London's Palace Theatre by completing a staggering 27 marathons in 27 days across South Africa.
Eddie is no stranger to Martin Audio sound systems, having been performing through their line array systems as far back as 2003's Sexie tour.
For this latest residency he revved up his previous Force Majeur show into a Force Majeur Reloaded version; Martin Audio's long-term Worcester-based partner, Intasound, were on hand to provide the PA, with proprietor Francis Dale dipping heavily into his inventory.
The opportunity came along following the 10-week run at the same venue by Derren Brown, at the suggestion of the artist's production manager Blair Halliday, who recommended them to Izzard's production man, James Kelly. And so as one Intasound system loaded out, the new Martin Audio system moved in.
Explained Francis Dale: "These were two very different performances and this required us to go from creating a more intimate sound with the point source system to a full flown line array for Eddie's more rock 'n' roll style presentation."
For Eddie Izzard's stalwart Sound Engineer, George Glossop, Intasound deployed 28 W8LM Mini Line Array cabinets in total – eight a side for the main hang, with three flown in the stalls and three ground stacked in the dress circle.
With four tiers in the 1400-capacity theatre, including gallery, requiring even sound coverage, careful placement had been essential, particularly in the upper circle. WS218X subs were stacked either side of the stalls in front of the proscenium arch, while Martin Audio DD6's were placed across the front of stage as lip fills, to cover the 'dead' area in front of stage – an increasingly popular solution for sound designers – and four F8+ were used as outfills in the stalls and Upper Circle areas.
Completing the deployment, on the stage Izzard received his reference sound through four Martin Audio LE1200 wedge monitors, while a W2 on either side of the stage provided sidefills.
Dale stated: "This was all about getting great vocal clarity delivered to every seat, as aside from the entry and exit music play-in at the beginning and end of both halves, including the big finale, the delivery was all from vocal mic. It all worked extremely well and we received great feedback from Mick Perrin Worldwide, the management company, after the shows."