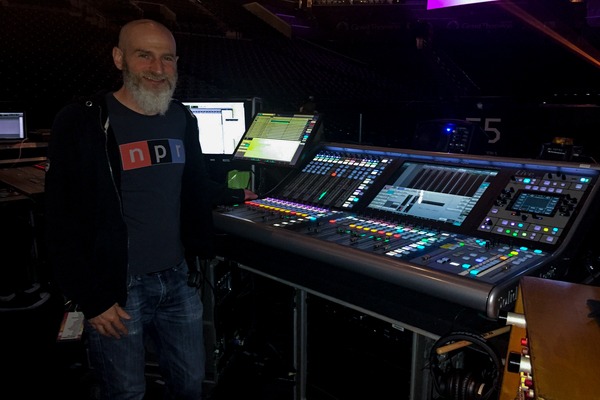 Imagine Dragons latest worldwide tour, which coincides with the release of their Evolve album, was supported by tour sound company Sound Image, which recommended the Sold State Logic Live L500.
Front of House Engineer Scott Eisenberg, said: "It was great to be able to bring up channels that sounded good right out of the box," he notes. "We were able to bring everything together really quickly, which is a tribute to both the band and the console."
The Evolve show features 2 stages. The main stage is for the primary song list with full line-up, while a 'B' stage allows the band to switch to pared-down, unplugged interludes that include viola, cello, acoustic bass, and keyboards.
"It's about 80 inputs between the 2 stages. Around 50 from the main stage, a dozen from the B Stage, plus talkbacks and so on." The drum kit is a significant proportion of the main stage count – about 16 inputs – and there are several downstage drums that the other band members play, which account for around seven inputs. "It's a bit of a handful, added Eisenberg, "But nice that it's broken up into 2 stages."
Eisenberg has the L500 console laid out according to the main and B stages, each with their own Fader Tile layers. Channels for the 'transition tracks' are common to all, and console layouts go with snapshots, so he can easily manage stage switches in either direction. He particularly values the simplicity of managing the console layout, even during show-time: "It has taken a little while of doing the show to figure out exactly where I want everything, and even during the show if I want a fader in a different place I can just go to the layers page and drag and drop a channel to wherever I need it."
For the basic show architecture, Eisenberg opted to only use aux channels as a sub send. "Almost everything else – my FX, routing, and so on, I do through the console's stem groups, and a few through the matrix. If I was using the board for monitors, the aux's would be great for outputs, but the stems have so much more flexibility – like being able to send a stem to another stem – that I ended up using those more. I don't have to return stems the way I do an aux. When I want to have something like a delay come back and go to a reverb afterwards – to do that with an aux I'd have to return it to an input and then move it on again. With stem-to-stem routing it's a lot simpler."
Eisenberg also uses a combination of stems and matrix for broadcast feeds, sending a complete left-right mix, with some dynamic EQ, along with 'treated' audience microphones. "There are some stage effects – like CO2 charges that are super-loud when they are right next to the audience mics," he explained. "I can adjust for those, whereas the truck has never seen the show. It makes things way easier for them."
FX processing for the show is almost entirely taken care of within the console – not just because of the ultra-low latencies and sound quality advantages. "I like having stuff on the console, so it's right there in front of me," Eisenberg stated. "Rather than going over to a rack of things or a separate system.
"I've been using a lot of the Dynamic EQ on different things – even on vocals. A lot of voices have this lower mid-range thing that happens and a dynamic EQ works much better than just taking tonnes of lower-mid range out. There are also some samples that have an inordinate amount of low end on them. I'll either use a dynamic EQ or a multi-band compressor on those. The band uses them in the studio and they have a completely different effect when you're throwing them through 12-per-side double 19-inch subs. You tend to notice more when there's 30 or 40Hz going through in a live atmosphere than you do on headphones!"
The veteran LD concluded: "The first show was a small one, at YouTube Space in Los Angeles. It was a nice room – big enough that you can hear the PA properly, but small enough that you can really hear what's going on in your mix. It sounded great straight away, and we knew everything was going to be fine!"