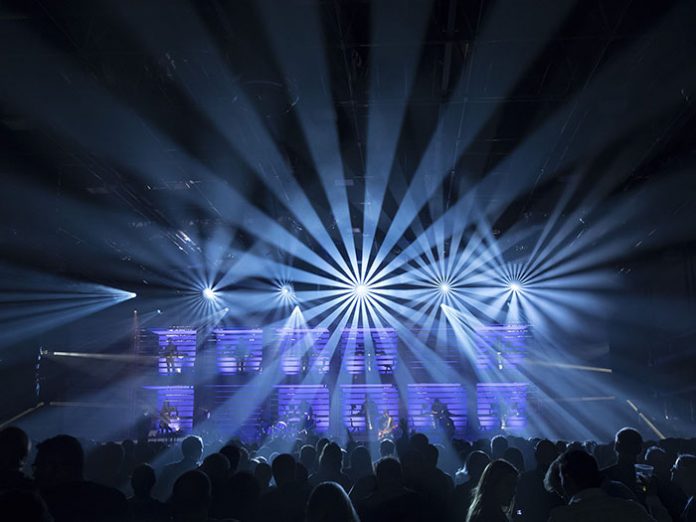 ∑(No,12k,Lg,17Mif) New Order + Liam Gillick So It Goes is a bold and original collaboration between gurus of electronic music New Order and conceptual visual artist Liam Gillick, which is orchestrated by Joe Duddell and presented for the 2017 Manchester International Festival on Stage 1 at the iconic Old Granada Studios in the city.
Lighting was designed by the band's long-term LD Andy Liddle, with equipment supplied by Blackburn based rental specialist HSL, project managed by John Slevin and co-ordinated on site for them by Andy Chatburn.
The show presents selected deconstructions picked from New Order's vast body of work, played by the band and a 12-person synthesiser ensemble from the Royal Northern College of Music.
Gillick designed the stage set comprising the 22.5M wide by 7M high structure upstage of the band that houses the 12 synth players. This was engineered by Star Events and, together with the trussing providing the overhead lighting positions, had to be shoehorned into the Studio's 24.5M wide 1979 Space Frame superstructure, a delicate operation undertaken by UK Rigging.
A striking large-scale louvre system, created by Scott Fleary, is integral to the set and sits in front of the 12 keyboard cubes, fabricated by Hawthorns and installed by Take One Scenic. When closed and in transition, the 12 louvered panels act as a front projection surface and when open, a vibrant array of lighting and other visual effects are revealed.
"Many inspiring people and excellent companies have united to make this production happen" stated Liddle, "It is energising, highly cerebral and fertile and many ideas have been discussed in a very invigorating atmosphere," he enthused.
Production Manager Dave Lawrence oversaw the whole process and Liddle was delighted to hear that HSL would be the stage lighting supplier.
In addition to that, they are also supplying the site-wide electrics and power distribution, general lighting for the bar and foyer areas and safety lighting throughout the space.
The stage lighting trusses are installed above the node points of the Space Frame to keep the aesthetics clean, minimal and defined.
Gillick left it to Liddle's expertise and knowledge as a touring LD and his long history with New Order to shine through as the show evolved into a multi-layered visual presentation.
Andy was keen to have a standard touring system in terms of fixtures, but concealed to maintain the look and vibe of the show. With that in mind all the lighting, apart from two fixtures is in the roof and secreted at the sides behind the p.a.
Robe BMFL Spots are the main hard-edged lights of which there is a double row rigged on two trusses above the stage and set. These were chosen for their intensity, flexibility and the very wide range of effects that can be created.
For side lighting Andy picked a combination of more BMFLs, ETC Source Fours and Claypaky Sharpies.
Inside each of the 12 cells of the structure is a Robe DL4X Profile fixture, used both for projecting onto the white lining of the cell, and blasting beam and breakup effects through the louvres. Each cell is internally lit with two SGM P5 LED floods giving off a subtle range of intensities.
Martin Atomic 3000 LEDs are used over-stage and above the audience. As well as being an integral part in the show, Liddle is taking advantage of their full duty-cycle and using them as venue work lights, supporting a grid of Martin MAC Auras, also in the ceiling, utilised for walk-in and room lighting.
Four-lite Molefeys are rigged on a different rail of the upstage trusses in a mirror position to the rear BMFL Spots, and the front and key lighting comes from a row of ETC Source Fours.All of these luminaires are installed discreetly so the source is visible rather than the hardware. With the heavy side lighting, Andy has taken more of a dance than a rock show approach. Gillick's only specific lighting request was for only two lights on the floor with which he wanted to create some dramatic silhouettes onto the closed louvres.
Liddle recalled the last time he dared to position any lights on the floor for a New Order show, which was Berlin, May 1981, a gig in the SO36 club where Bernard Sumner ceremoniously kicked a pair of Altman fresnels offstage and he swore never to put any lighting instrument in that position again.
This time two Martin Axioms hybrids were positioned strategically to produce the effect that Gillick was looking for. "I asked HSL to find the toughest narrow source fixture they had available, and these Axioms worked a real treat. I will definitely use them in the future" he said adding that they also, happily, stayed in position.
HSL supplied two brand new Avolites Arena consoles for Liddle to control lighting for the five shows that played out during the 18-day MIF17 event.
Liddle has enjoyed working with HSL on the project for which Andy 'Top Hat' Chatburn acted as the chief LX on site. "The whole HSL team has been fantastic as always, the kit has been excellent and a big shout-out to Matt McCall and Joy Brown from the warehouse who have given it amazing support and organisation".
The artistic and engineering challenges included dealing with the building – effectively a found space – in the context of fitting this show in. As the Space Frame was installed in 1979, there are no electronic drawings or information available.
Liddle made at least three reccies and he and UK Rigging's Ken Johnson measured the frame with laser equipment to detect the node points. "Andy (Chatburn) and Ken pulled an absolute blinder to get the rig in there," commented Liddle, who is totally fired up by the whole ∑(No,12k,Lg,17Mif) project. "It's been a real joy to work with Liam and on a presentation collaboration beyond the realms of normal concert touring. He is a great communicator. His whole take on live performance is very different and I think we are all very proud of the combined results".
The intricate video content was created by Matt Lee, controlled and manipulated by Ryan 'Simba' Staplehurst via a d3 media server.
To fully realise Liam's creative vision and start experimenting with visual effects, a 3D model of the stage was built during pre-production and imported into d3 allowing proxy content and the louvre movements to be simulated long before rehearsals had begun. Using this simulation the d3 was utilised to control the four projectors responsible for the mapping and generate the DMX required to control the louvres themselves. This combined control ensures that the mapping remains pixel-perfect as the dynamics of the set shift.
The show has received massive critical acclaim and everyone is now waiting in anticipation to see if the concept will be commissioned to appear at future arts events.
"HSL and I have worked on a number of MIF events now, and it's a great experience. The venues are different, the artists are interesting and the shows always make you think. Working with Dave, Andy and MIF17's head of technical Jack Thompson is a real pleasure." said John Slevin.