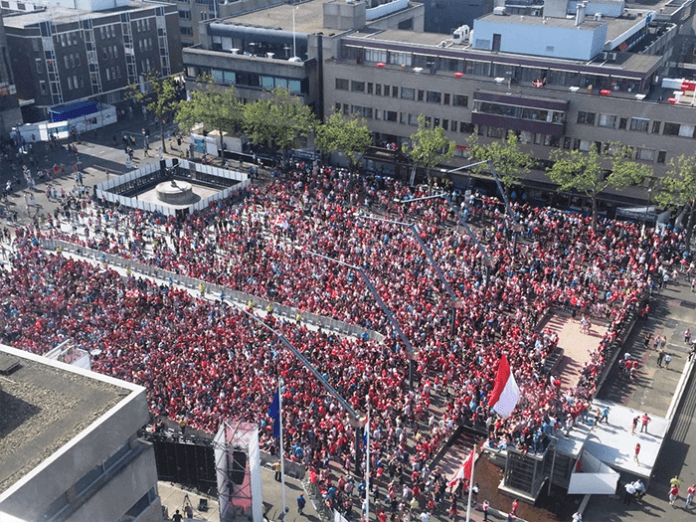 Dutch barrier manufacturer, Mojo Barriers, had its busiest period in May 2016 with three huge events all taking place in The Netherlands. "This was a logistically challenging run of projects," stated Alex Borger, Mojo Barriers' Director, as the busy period commenced with King's Day.
King's Day played host to 16 events across seven cities with the most popular destination being the capital, Amsterdam, where nearly 1.5 million created the world's largest street party. Mojo deployed 1.8 metre barriers, along with 91 Line Up Gates, 780 Bar Barriers and eight Gatekeeper turnstiles.
A weekend later brought Liberation Day, commemorating the liberation of The Netherlands during World War II. Mojo supplied festivals with 1,000 barriers, 26 Gatekeepers, and 90 Line Up gates across seven cities.
A dramatic final day in the Eredivisie, the Dutch top flight football league, brought about chaos for Mojo, having originally anticipated an Ajax victory. In a day of unexpected twists, PSV retained the title, sparking the removal of barriers in Amsterdam. which had to be quickly transported to Eindhoven.
115 units were loaded at the railway station plus an extra 20 Line Up gates, while at Arena Park 785 units including gates, high-fence and 16 mega exit doors were ready by 1pm, for the fans arriving ahead of the 4pm show.
"All of this coincides with supplying barriers to the AC / DC and Bruce Springsteen European tours, leading into an unbelievably busy summer of festivals," added Borger.