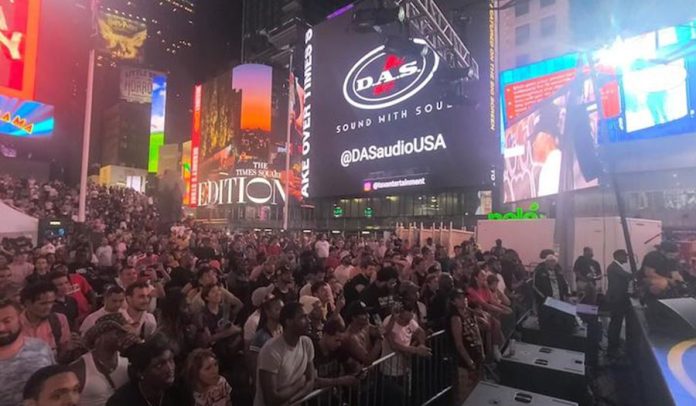 New York has been celebrating the genre's half-century mark with an ongoing series of events, one of the biggest being the Battle Champs competition in Times Square, arranged by Beats, Rhymes and Relief and sponsored by Snipes, with sound provided by DAS Audio.
The Battle Champs event is one of several created to benefit the Culture Fund.DJ GrandMixer DXT played a role in putting the event together, including specifying the DAS sound system. DXT, credited as the first DJ to use a turntable as an instrument, is a hip-hop pioneer whose unique scratching style first appeared on Herbie Hancock's 1983 Grammy-winning cut Rockit, from the album Future Shock.
The Times Square crowd was treated to beats courtesy of the DAS Audio system, with the main stage sporting a dozen Event-208A powered three-way systems, with six Event-121A 21-inch subs. A pair of Vantec-20A active curved source boxes provided centre fills.
On stage, performers got momentum from the monitors with a pair of Event-M210A wedges in front, along with side fills including Vantec-15A tops and Vantec-18A subs. A pair of Action-M512A boxes added punch to the DJ station.
A single DSP-2060A DSP unit and DAS Audio's ALMA system software was all that was needed to control system drive and processing for the entire rig.
"The world has been celebrating Hip-Hop's milestone all year, but the Battle Champs event in Times Square really brings it home to where the music was born," remarked DXT. "What an honour to be here in this iconic place. The sound was amazing, and the crowds absolutely loved it."