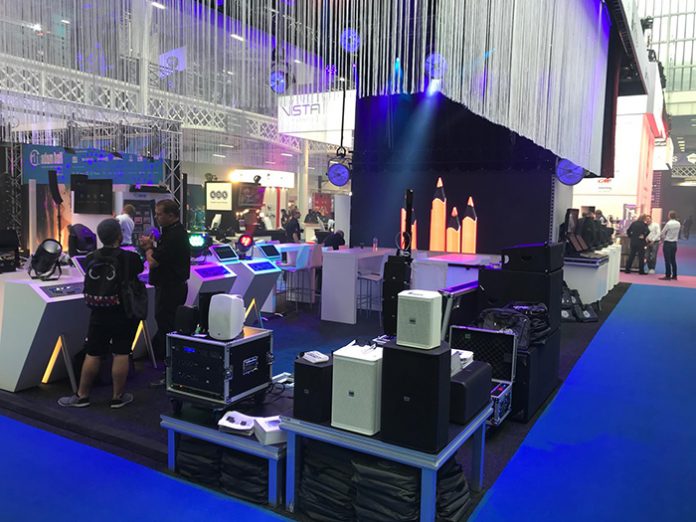 Highlite International BV had a very successful PLASA 2018 which saw an increased presence with 3 booths.
The decision to use 3 booths this year was an obvious one. Highlite had so much new and specific products to show that it was best to give them all their own stage. Especially for the latest Infinity additions, the Infinity Signature LED-based theatre spots, which have been designed and developed in collaboration with world-renowned theatre spot manufacturer Robert Juliat. This cooperation resulted in a 2018 Plasa Innovation Award nomination for the TS-260C7 Profile Engine. Besides the Signature Series, there was also special attention for the moving heads from the Infinity Furion series and the impressive iW-1240 Infinity washlight.
One stand was dedicated entirely to the Infinity-range with the Robert Juliat collaboration Infinity Signature LED theatre spots proving to be show-stoppers. At the Infinity Chimp light controllers stand, live ongoing training sessions were held. At the Highlite stand visitors found, amongst others, the Showtec Helix S5000 washlight, the Eventspot 1600 battery-light, the new DAP Xi-MKII installation speakers and the latest addition to the Odin-family, the S-218A double 18" subwoofer.
At the second booth, the Highlite product specialists could be found, giving ongoing training-sessions of the Chimp 100 and 300 light controllers. They educated every visitor about the possibilities of the light controllers and showed them the various setups including the matching Bananawing. They also showed the advantages of the Wireless Solution WDMX versions of both controllers and a lot of tips and tricks to get the best out of each unit. These training sessions were given as part of the Highlite Academy program for beginners and advanced users.
Booth 3 presented the Odin S-218A double 18" Celestion powered subwoofer, the newest member of the Odin line array system. Odin has had a very successful UK summer tour, being active during numerous events. Dap introduced the completely new designed Xi-MKII installation speakers which have Celestion speakers incorporated in every unit. Showtec showed the retro designed Vintage Blaze '33 and '55 floodlights and the versatile Eventspot 1600 batterylight.
With 3 separate booths Highlite could give each product the stage it required and all the visitors the attention and the time to properly inform them about the latest technology.