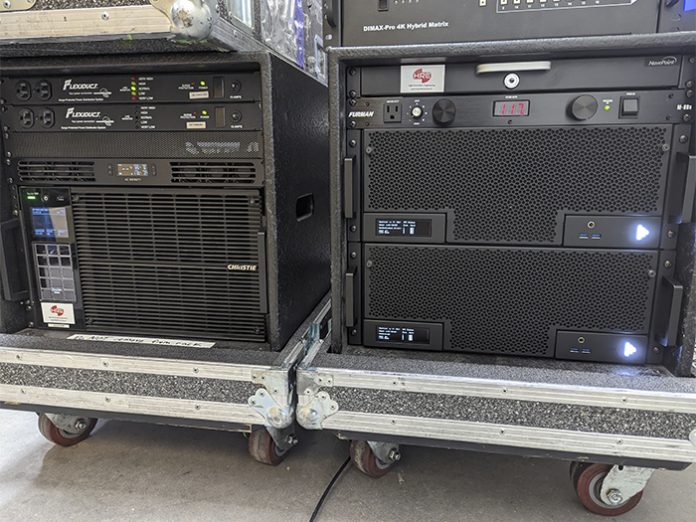 Phoenix-based High Resolution Engineering (HRE) has added disguise vx 4+ media servers to its equipment rental inventory. The purchase marks the first disguise acquisitions by HRE, which also offers rentals of the Christie Spyder X80 video processor and Lightware and Dexon routers.
HRE is the premier specialized provider of high-end video processing, screen switching, video signal management, media servers and control technologies and services to the live events industry. The company provides customized rental packages as well as system design and on-site show support to engineer, program, switch and play back content for large screen and multiscreen presentations and events.
The disguise vx 4+ media server is the new industry standard for powering the world's biggest and most technically demanding live and virtual productions. It can handle more than twice as many video layers as its predecessor while keeping video latency to a minimum. The integration of a new PCIe 4.0 motherboard and CPU, GPU and RAID storage ensures that vx 4+ video playback and compositing performance is unrivalled.
"disguise vx 4+ is the most reliable and best media server solution for the rental market," declares HRE's Drew Taylor. "We had some media server and playback solutions but were looking for a four-output server because customers in the live corporate event market typically need four 4K outputs. All of our flagship rental gear has high bandwidth, high resolution capabilities."
Taylor notes that the vx 4+ is a hardware-based solution – a key factor in its selection. "We rent to production companies and AV providers and also partner with video vendors to offer high-end solutions for their bigger shows," he explains. "When you have a hardware-based solution you know what you're getting, it's standardized. But every software-based system is different. disguise media servers are well known, and the company supports their equipment 100 percent, end to end. We wanted to buy into disguise's latest and greatest and most powerful system, and that's the vx 4+."
HRE already rented a vx 4+ media server to a local corporate event featuring a 175 x 15-foot video screen. "We provided screen switching and media server equipment packages, media server programming and operation for the show, and prepro content services in our shop to ensure the proper formatting of files and playback and guarantee peace of mind once on site," said Taylor.
"disguise vx 4+ really complements the processors and routers in our rental inventory, enabling us to provide powerful system solutions for clients," he adds. "Our Spyder X80 video processor has the most 4K I/Os of any screen switcher on the market and is a perfect pairing for disguise. The vx 4+ has HDMI 2.0 VFC cards, and our Lightware 4K@60 HDMI 2.0 routers are available in sizes up to 48 x 48 for the biggest capacity offered today. And our Dexon DIMAX1616 Pro 4K60 HDMI 2.0 seamless switching matrix router with built-in multiviewer is another great solution to pair with disguise.
"Anyway you look at it, disguise vx 4+ is a perfect fit!"