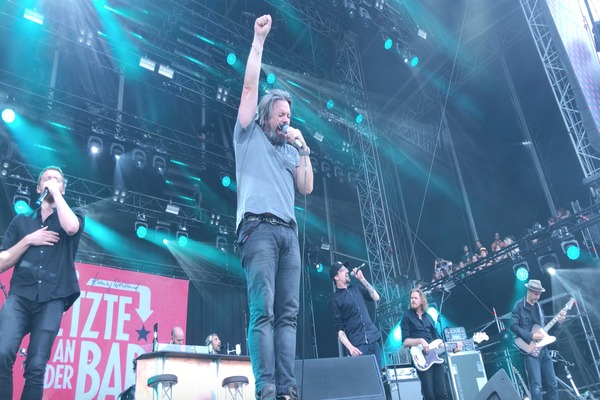 H-Blockx frontman and singer of one of Germany's top bands, Söhne Mannheims, Henning Wehland turned to Allen & Heath dLive for front of house and a GLD-80 for monitors on his solo Der Letzte an der Bar (Last Man At The Bar) tour.
Technical Director and FOH engineer Ansgar Friemel, said: "The big challenge of this production is the bandwidth of gigs we play, from street parties to the big festivals. We needed a very flexible console at FOH, which integrates into various Dante or MADI networks easily and dLive delivers it all. I also love that dLive gets better with every firmware update. Allen & Heath really listens to their users and constantly optimises the mixing workflow."
A central element of the stage is a recreation of a bar counter, which hosts an Allen & Heath GLD-80 as monitor desk and a KLANG:fabrik from KLANG:technologies for 3D in-ear monitoring. Friemel commented: "We use the GLD-80 and KLANG:fabrik in a Dante network plus a 24bit/96kHz gigaACE netzwork for FOH. On top we can also use MADI to run virtual sound checks, multitrack recordings or deliver signals to an OB van."
As Henning Wehland sings in German, vocal clarity and intelligibility is extremely important and can often be a real mixing challenge. "We use lots of parallel compression in the mix groups to tame Henning's voice and make it clearly understandable even in dense and complex songs," explains Friemel. "dLive has so many great dynamic tools like the PeakLimiter 76, the 16T, the slow-opto compressor or the multi-band dynamics. But we also use the other effects a lot, like the plate reverbs, the De-Esser, Transient Controller or the Echo.
"I can recommend dLive to every live sound engineer its open bus structure and powerful FGPA core lets you configure the desk for many different application from FOH and monitors to corporate or theatre," Friemel explained.
The engineer also uses various microphones from Audio-Technica for the drumset.
"We have an ATM350 on the snare which is great for high and low-mid frequencies and has a perfect mounting system," says Friemel. "For the floor tom and snare bottom we use an ATM230 which deliver a very full and natural sound. For capturing atmospheres we use two AT897 which create very detailed and nice image of the stage sound for monitor mix or live recordings," he concluded.