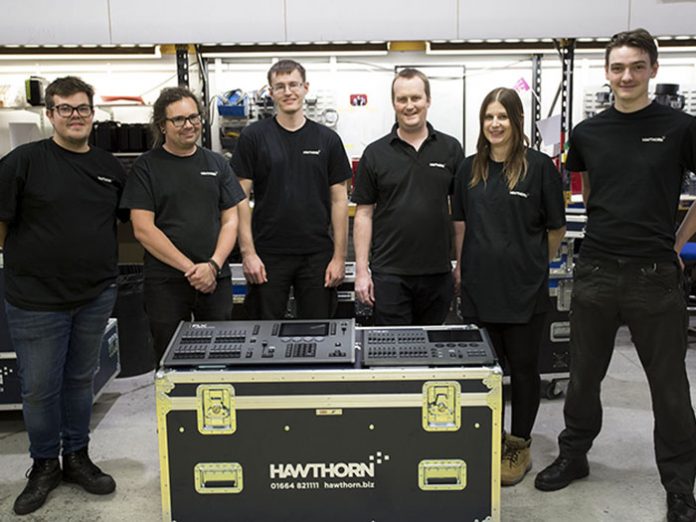 Hawthorn has purchased multiple new Zero 88 consoles – both FLX and FLX S series – joining a growing number of UK rental companies investing in the power and simplicity of the FLX ranges, which are manufactured exclusively in the UK by Eaton's Zero 88.
This move was partly customer led, explained Adrian Searle, Hawthorn's asset operations director: "And partly due to the fact that we can all clearly see the benefits of the FLX feature set and appreciate the fact that Zero 88 hardware and software has a history of making complex programming tasks exceptionally straightforward".
Hawthorn have a long history with Eaton Zero 88 console products and continue to offer different types of Eaton Zero 88 dimmers. Despite a switch to another brand for a short time to find a small to medium event console solution, they went back to Eaton Zero 88 consoles after the launch of the FLX in 2015 because they preferred the features offered by the Eaton Zero 88.
The new batch of FLX's has replaced some of those older consoles which have served well for many years but are now not ideal for controlling the proliferation of LED-based fixtures on the market. FLX's new features for Hawthorn included the intuitive and uncomplicated way that the console guides the user through set-up which is perfect for users with little knowledge about patching. Searle believes that FLX is also great for its corporate events which involve a lot of LED light sources where the operator or designer needs to be creative, often with precious little time to programme and integrate them into a show.
The latest batch of Hawthorn FLX's were purchased for some of their venues at the 2018 Edinburgh Fringe Festival, where they were a great success. They are now in regular rental stock and in active service on all types of applications, from educational and am-dram shows to corporates and industrials.
Searle feels the brand generally is very user-focused and knows the importance and relevance of excellent support to assist users in getting the best out of the products. He said: "They've designed a range of desks that work really well and hit that market sector spot on."