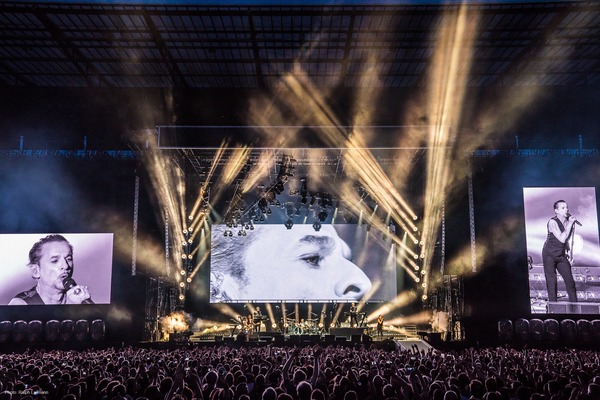 SRae Productions go global with Green Hippo during Depeche Mode's Global Spirit Tour.
The electronic behemoths Global Spirit Tour, sees the band debut its 14th studio album, Spirit. A pair of Hippotizer Boreal Media Servers will provide the technology required to manage the show's video playback.

 The full-service design and production company owned by Sooner Routhier and Robert Long, takes charge of the tour lighting direction for Anton Corbijn's production design.
Routhier commented: "For Depeche Mode, the Hippotizer is a playback machine. We used the system for IMAG effects on the rear wall. We also used the colour block system in some way, shape or form. We trace the screens to give them the look of being lined in modern, neon-esk lines. We also were able to use each LED tile as a lighting fixture, taking a bit of pressure off the content team.
"

The world tour's video and lighting show relies on Hippotizer, Green Hippo's award-winning proprietary software, including its ZooKeeper user interface. ZooKeeper talks to 'The Engine', with the latest version enabling real-time control. We love the new layout and its workflow. It's still similar to V3, but with a bit of added flare, new functions and features. The ViewPort controls are fantastic and we were absolutely thrilled with the technical support. It was really easy to get someone on the phone, the instant we needed help with anything at all," Routhier added.
The resulting show is a triumph for the band, SRae, and Hippotizer Media Servers. With a set-list bulging with hits from Depeche Mode's extensive back catalogue, as well as new favourites from its critically acclaimed new album, Depeche Mode continue to show other bands.
Cory Froke, SuperTech at Green Hippo Media Technology, said: "SRae has really become one of the foremost driving forces in touring production design today. Sooner and Robert love to push the limits of technology with their designs, requiring every piece of the system to work in unison in order to give the show the cohesive, seamless relationship between lighting and video that they are so well known for. We, at Green Hippo couldn't be more-honoured to be given the opportunity to support their designs, while also expanding the toolset. Hippotizer affords designers who are looking to push the limits."