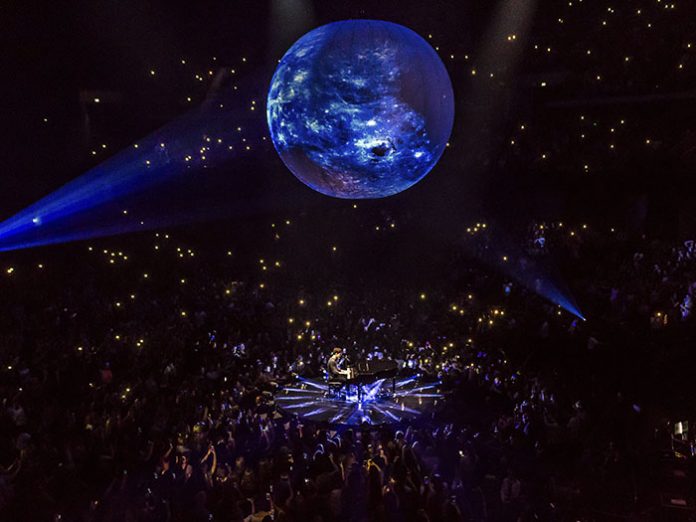 Okulus, the production design company working alongside Creative Director Paul Caslin, and 24/7 Productions, were behind the Canadian singer-songwriter's recent 'Illuminate' world tour, creating attention grabbing looks, with Hippotizer Boreals and Taigas.
The Hippotizer Taigas (one active, one backup) fed a 1920 x 640 curved, 9mm LED wall, which served as the performance area's main backdrop to display the visuals, triggered via timecode. The team also integrated the Video Director's live camera feeds into the content. A key technical aspect for the Okulus team was Hippotizer's ability to beautifully integrate with Notch, the 'real time graphics workhorse'. Effects here included a 3D model of Shawn Mendes, which Okulus placed into preprogrammed environments. The team also used the setup to manipulate IMAG feeds to create unique IMAG, all fed by the Hippotizer Taiga to side projectors.
The Hippotizer Boreals drove a quartet of Panasonic projectors, all of which were mapped, and edge blended, on to a 5m orb hung in the centre of the arena. The orb featured throughout the show, with the custom content from Treatment studios to create an impressive atmosphere at the centre of the arena.
"We really love how Hippotizer integrates with Notch. It's simple with our normal programming style and, once you couple with the built-in Hippotizer FX, you can generate really unique looks," said Okulus Creative Director, James Scott.
The tour is set to continue across North America, Asia and Australia until the end of the year, with its first stop in Portland, Oregon.