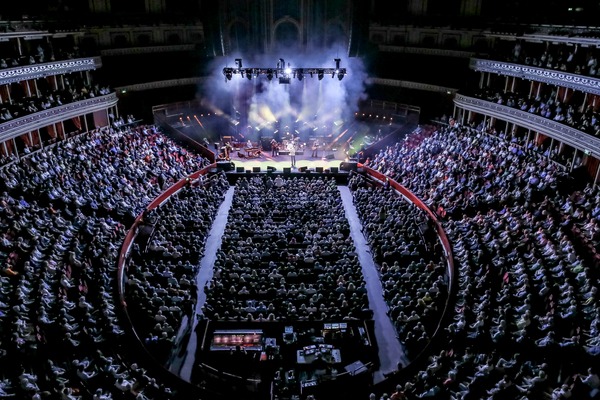 Supported by the Ian Livie Concert & Corporate Lighting, The Free Spirit Tour of 2017 featured a minimalist rig of moving light and Leko fixtures with video content on Resolume.
Veteran LD Ian Livie commented: "We've had the pleasure of using MA products for many years; there has always been a high demand from mainstream designers so MA makes a very regular appearance on a specification list. I had worked with Warren Cracknell for many years on Joe Bonamassa, the US blues guitarist so when he discussed the option of working with Paul Rodgers on the Free Spirit Tour I knew I had to invest in a console I was confident would stand the test of touring time both now and into the future. The LD, Jared Trinnaman felt the same way; I saw the show at the Royal Albert Hall and was so impressed with what he did with the console."
Jared Trinnaman added: "I've been an MA user since 2012, it was suggested to me by designer Paul Guthrie and I've never looked back. I personally own a grandMA2 OnPC Command Wing and, if I'm not using it, it is out on rental. It has been a fabulous purchase from that perspective.
"We were able to execute lighting cues and keep track of everything by displaying the information pertinent to our show. We triggered the video content on Resolume using the MA2, via Artnet. It worked great; I love the combo of Resolume and MA2," Trinnaman continued.
For the Free Spirit shows, the team utilised 4 separate kabuki drops during the show. "I was able to put that together in less than 2 minutes via macros and the layout view. The whole package is simply amazing. I have yet to use another desk that is so flexible to accommodate the programmer's specific and personal needs. Of course, another bonus is the reliability factor. I have had zero issues with the grandMA2 on that front. Any time I thought I was having problems, it turned out to be operator error!" exclaimed Trinnaman.
This was Trinnaman's first visit to the UK and was full of praise. "Ian and his staff were amazing. This was my first time working with Ian and I sincerely hope to work with him again very soon. The crew, Luke, Alan and Lewis were absolutely on point every day. They made it a wonderful first tour in the UK for me."
Production Manager Warren Cracknell agreed: "We are completely satisfied with Ian and his team. From concept to design and executing the rig on the road, they excelled at everything. I have been working with Ian Livie Lighting since 2004 and will continue well into the future. A great team of hard working individuals that excel at their craft."
Livie concluded: "This was a fabulous tour and the choice to use the grandMA2 was a definite winner. So much so that, shortly after Paul Rodgers Free Spirit tour, I opted to purchase my second grandMA2."