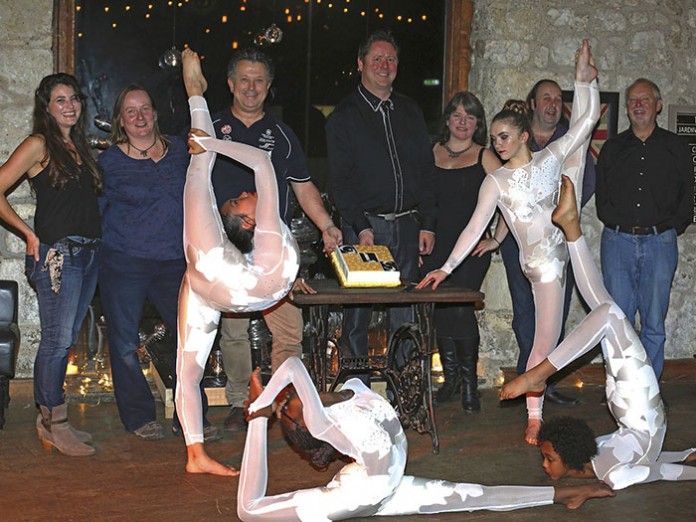 Southampton-based lighting rental company, and newest member of the growing HSL family, just celebrated 20 years within the pro lighting and entertainment technology industry.
Staged at the Dancing Man Brewery, housed in the charismatic old Wool House dock warehouse in the historical heart of the town's thriving port facilities, the event was attended by close to 100 guests, prompting GLS MD Ian Turner to declare: "Finally after 20 years in business we are proud to say that we can organise a piss-up in a brewery!"
HSL's MD Simon Stuart, right at the forefront of the party, commented: "It was an absolutely cracking evening marking this great achievement with many industry friends and family. Here's to the next 20 years!"
Guests were entertained by rhythmic gymnastics dance performance troupe, alienZoo, and the multi-talented multi-instrumentalist and singer, Neil Kelso, together with of the finest craft beer, lots of lively conversations and socialising that stretched well into the night.
Turner founded the company with his wife, Jan, in 1995 and the party included clients and staff who had worked with GLS from the start, some of whom are no longer in the industry and others who are, and who have stayed loyal to the company throughout as it has flourished as a boutique operation offering the highest levels of service and support.
GLS's first ever employee Karen Brown was among the revellers. Brown was the crew boss on a Motorhead tour and her team hit the celebrations after closing the truck doors back at the warehouse and seeing the truck off to Millennium Studios for production rehearsals ahead of the tour, which started in Europe.
Other guests included long term suppliers like Ian Brown from Robe UK, who has supplied GLS with various kit and brands of moving light since they started. Amongst the staff and freelancers from far and wide there were also plenty of friends and colleagues from other lighting companies around the country.
The pair founded GLS to fill a gap in the local market at the time with a quality-driven rental company offering the latest technologies, innovative solutions, and imaginative designs, enjoying excellent relationships with its clients.
Turner is also an experienced lighting designer with bands like the Flaming Lips, the Pogues and Tenacious D on his CV. The company now employs 12 full time staff and has a large pool of regular freelancers.
To expand the scope of its work and guarantee a progressive future, GLS recently joined the HSL Family in a unique working partnership that benefits from access to HSL's considerable resources, skills and infrastructure, making it among the most prominent and proactive lighting and video rental facilities in Europe.