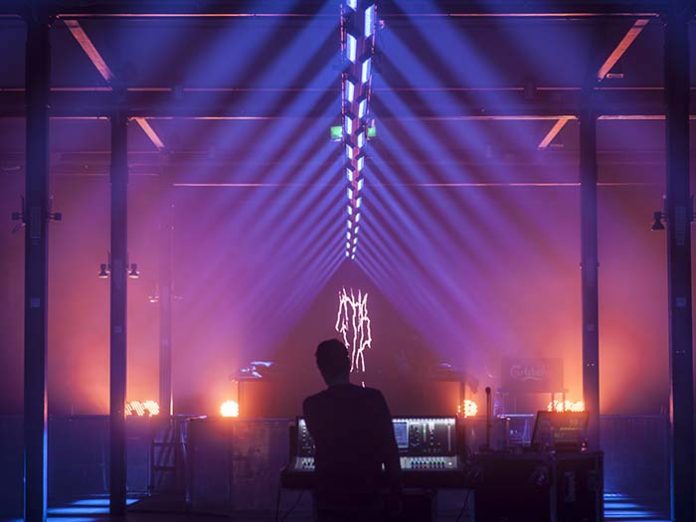 GLP's award-winning X4 Bar 20s recently had a starring role in Carlsberg's perennial Green Door Project in Stockholm, created and produced by Grandin's Flying Circus. Designed to explore the future of Swedish pop culture and the club scene, by featuring some of the country's progressive artists and DJs, the venue is always kept secret until the day before the event. This year, party organiser Peter Björklund revealed the venue as the Metallgjuteriet, the second largest hall in the Nacka Strandsmässan exhibition / event venue.
Lighting Designer was Anders Heberling who specified 50 of the X4 Bar 20 LED battens, along with eight of the enormous (and extremely bright) GLP X4 XL heads and a further eight of the compact X4 S, with the same impressive zoom. These were supplied by Bright Group Sweden AB, with some of the equipment sub-hired from Motion in Germany. Project Manager was Magnus Karlsson, Head of Lighting at Bright Group. Tasked with lighting up-and-coming artists such as Gravity Boys & Bodycam, Mabel, Helh and Sammy & Johnny Bennett, Anders said, "When I first saw the room I immediately knew I wanted to use one main fixture and hang down the length of the entire room, to create a kind of runway to the stage."
When the stage location was set he realised he had a massive 48m to work with. "It was an easy decision to use 48 of the X4 Bar 20's – this served as both live performance lighting and audience lighting," he said. For stage effects during the live performances he used eight each of the X4 XL and X4 S, positioned around the stage, and this collectively delivered more than sufficient fire power.
Although nothing was custom built, the rig was anything but conventional. "Green Door Project, for me, is about trying to bring the performances and audience together," continued Anders. "With the line of Bar 20's running from the rear wall to the DJ, this feeling was accomplished. The room felt both big (which it was) yet intimate at the same time."
Using the X4 Bar 20 over stage as front lights had worked surprisingly well, he confirmed. "I could let the performers walk through the razor-sharp narrow beam but then set it in wide mode for a powerful wash effect, enabling the audience to see who was performing."
Summing up the event, Anders Heberling said he had been hugely impressed by the impact of the GLP X4's, and in particular the X4 Bar 20. "It is remarkably easy to use, and the rigging and alignment features are simple yet robust. Programming in Single Pix mode combined with the exceptional colour mix, zoom speed and tilt speed, opened up the possibility for a lot of creative programming, in basically no time."