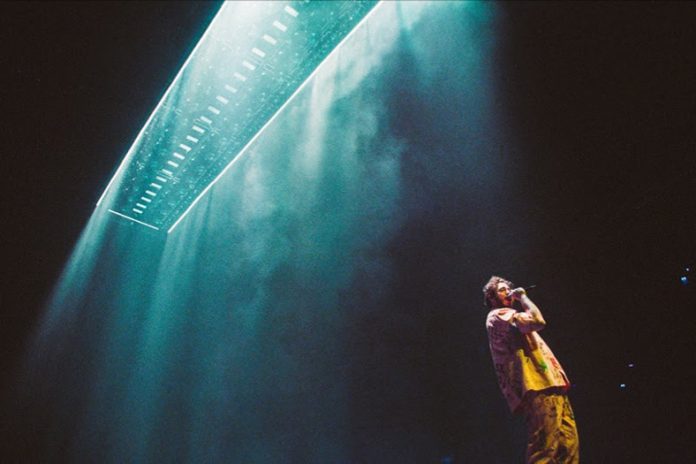 One of the most successful artists, Post Malone, has shown on his current world tour his total command of arena stages as a solo performer. But the multi-platinum artist has been assisted in no small part by his lighting designer Ben Dalgleish.
The LD showed his creative skill six months ago at PostyFest, the artist's one-day festival in his native Texas, where he used 133 of his favoured GLP's X4 Bar 20 battens at the Dos Equis Arena in Dallas.
Explaining the conceptual background, the American-based New Zealander said that with beams intending to fire between an overhead 'top box' and a 'runway' on the ground, they had found they could replace the proposed sheet lasers entirely with the X4 Bar 20s, an epiphany of sorts discovered during the month spent in pre-production at Fly By Nite rehearsal studios.
"That was the major change," he said. "We then replicated the lighting under the riser, and with the beams shooting up we could create a good interplay between bottom and top. We created an iconic look for the song Candy Paint, based off a unusual rainbow effect with the X4 Bar 20's."
The rig was based around making the Bars in perfect symmetry around the side of the boxes to produce clean lines. "The fixtures locked together well to create those straight lines," he stated, "but it required great attention to detail, such as how high the Bars were hanging, and making good use of the tilt facility." The use of six smoke machines, hidden inside the top box served to enhance the dynamic.
Some of the 68 GLP X4 Bar 20, supplied by PRG worldwide, were also deployed at the end of the catwalk. But Dalgleish still wasn't finished with GLP's ground-breaking solutions. He also designed 30 JDC1 hybrid strobes into the rig, run in SPix mode, using 68 DMX channels and providing numerous control options. These formed the spine of the top box.
"We ran all 30 units as close as possible together in a straight line, individually pixel mapped. We also used the RGB cells to create a lot of big effects and different looks at low level. We treated the two modes as separate lights, with the RGB being more of a scenic effect and the white as the spine of the box."
Assisted on this tour by lighting director Ben Ward, the LD has worked with the award-winning Bars as much as any designer, looking to extrapolate different functionality nearly every time in a way that is unexpected. "With every project I do, I always try to build iconic and architectural looks. I often end up with X4 Bar 20s on my shows, and try to do something new every time."
In summary, he said: "We need products like the GLPs which can keep up with unusual programming on the desk, with all the little accents."