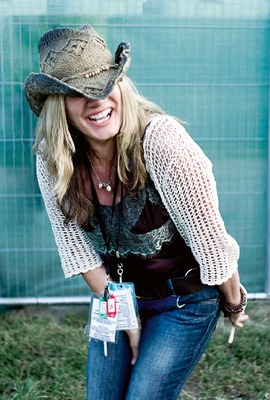 How did you initially become involved in the live event production industry? Did you take an academic route or a more practical one?
"My route was practical. I had two children and was helping to run a business in the building industry with my husband. I was working two days a week and a few evenings, while still being a mum to my kids, which was a role I loved then and still do now! The building industry did not excite me particularly, and I decided a change was needed. I managed to secure a part time job as assistant to the General Manager of the Duke of York's Theatre in London, and this changed my life. Unbeknown to me, the theatre was owned by Capital Radio, and very soon after being employed, I was asked to get involved with their projects.
"The theatre was sold and I was asked to continue my work with the promoters in Euston Tower, the (then) home of Capital. We were having a hard time at home financially, and this coincided with Capital wanting me to work more days for them. I agreed and built a career at Capital, eventually becoming Head of Entertainment, where I was involved with many live music projects."
What have been some of the milestone events you have been involved in and what role did you play on them? How did they lead to the creation of entertee?
"One of the projects I was tasked with putting together whilst at Capital Radio, was a large music event for the radio station. I was to work with the Prince's Trust to produce an event where the radio station could show off their brand, and also raise money for the charity.
"The programming director had seen this concept work in America and wanted me to bring this idea to life in London.  The event was Party in the Park in Hyde Park. During the period of working on this project, I was fascinated seeing a whole world being built on an empty piece of land, and how everyone who had worked together to make this happen had all been as important as each other in making it a success.
"Something in me clicked and I realised that I wanted to leave Capital and become involved in this world. I was not sure why I thought I could, or indeed why I would want to leave the security of a company like Captial Radio, but I did. That was 1998, entertee was created with a great friend of mine from Capital Radio, Deb Shilling, and we set about learning our trade. 19 years on we have learned how to build temporary worlds and hopefully will still be doing for years to come!"
What is the company's ethos and what have been some standout shows?
"Our company ethos is to work with great people who have heart, are hardworking, and who have a capacity for fun. If we are not having a good time doing what we do, how can we expect our audience to feel it. I truly believe that.
"There have been many amazing moments in my career, but Party in the Park was a stand out show for me. To play a major part in this successful event was life changing. Standing on a stage watching 100,000 people come through the gates at an event you have been part of is truly mind-blowing.
"My other stand out moment, was watching Prince perform Purple Rain at the Hop Farm Festival. I was the Festival Director and entertee was the production company for 5 years. We produced shows with incredible artists during that time, but for me, standing at the back of the arena on my own, watching the magic that happened that night was truly incredible. Prince was the best he could be, and was enjoying every minute he was on stage, and that translated to the audience like nothing I personally have seen before. I must admit, I shed a few tears."
Although you have to keep your upcoming project under wraps until October, can you give any hints as to what it might entail?
"We are very excited that we have the green light on a project that is very close to our hearts, where we believe we can put into practice all the skills we have acquired over the years. It is a festival on a beautiful site, and is a genre that is growing in the UK. The time has finally come where entertee has ownership of our own project, and that hopefully we will be able to create something that not only gives the ticket buyer a great experience, but also is an opportunity to help others along the way. We have, in the past, had to dance to the tune of other people. We know we are in a high risk business, but we have sound financial backing from people who also bring a huge amount of business experience to the table. They respect what we do, so we believe we have every chance of building something that we can all be proud of."