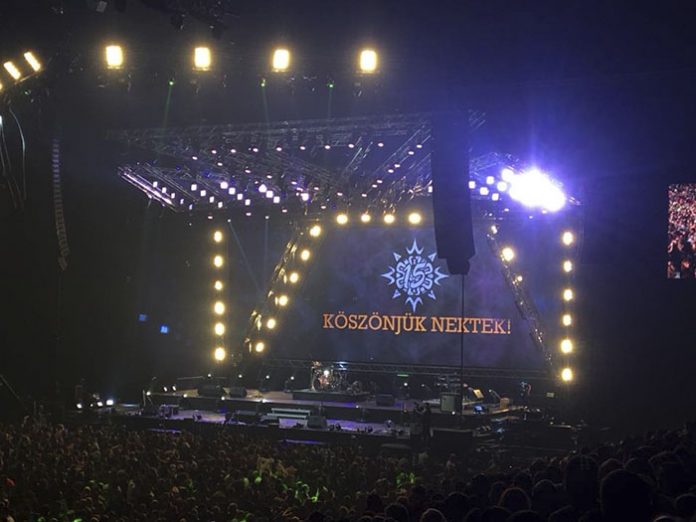 Vincent Vega, the protagonist in the Quentin Tarantino classic Pulp Fiction, is a man of endless complexity. In an ode to the pop culture icon, one of Europe's most riveting bands named themselves Kowalsky meg a Vega.

Reflecting the full richness of the band's music on their current tour in support of their Árnyék és Fény' (Shadow and Light) album is an evocative and intricately layered light show designed by Gergő Kovács that utilizes a rig made up entirely of Chauvet Professional fixtures, supplied by Mobil Audio and Light Kft.
Drawing inspiration from the title of Kowalsky meg a Vega's latest album, Kovács masterfully mixes light and shadows to connect audiences to the spirt of the band's performance.  Central to the execution of this lighting concept is his rig's 10 Maverick MK2 Spot, 24 COLORdash Par-Hex 12 and four STRIKE 4 fixtures, all of which are controlled by a ChamSys MagicQ MQ80 console.
Hung on two rows of mid-stage truss, with four units on one row and six on the other, the Maverick MK2 Spot fixtures play a variety of roles in Kovács' design, being used for downlighting, specials and audience lighting. At key moments during the band's performance, the 440W spot fixtures deliver bursts of visual energy to accentuate the mood of the music. Drawing on the CMY + CTO feature of the Maverick units, Kovács also relies on vivid colour changes to alter the environment on stage.
 "The wide palette of effects offered by the Maverick gave me some impressive options to underline the band's more lively numbers," commented Kovács. "The sheer brightness of the fixture was perfect to emphasize more energetic moods, while the colour mixing and zoom allow me to introduce a number of further dynamic elements into the visuals."
 Complementing the Maverick fixtures with an extended array of coloured stage wash effects are the rig's COLORdash Par-Hex 12 fixtures. Positioned from above stage trussing towards the front of the stage, the COLORdash's 12 10-watt RGBAW+UV LEDs create an immersive blanket of colour.
 "For pure, saturated colour, the COLORdash fixtures integrate flawlessly within the rig," said Kovács. "The COLORdash fixtures are allowing me to create dynamic shifts of visuals to introduce changes in mood, which comes in especially useful during the transition between different songs."
 At times, the light thrown on the crowd from the high-output STRIKE fixtures is fiercely intense. However, the fixtures are also used to bathe venues in a warm white glow that sets a decidedly mellow tone.