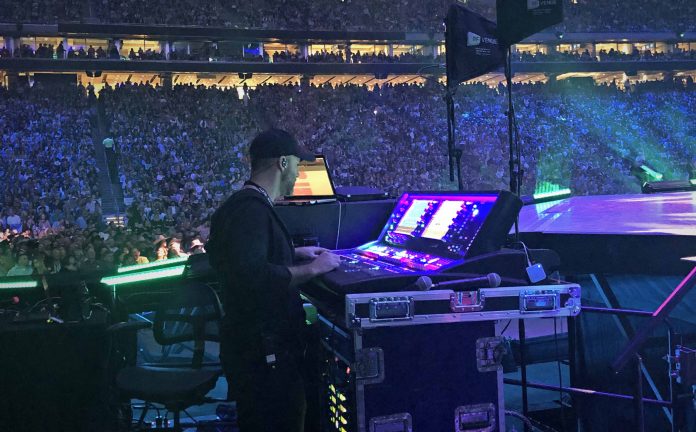 Country music legend George Strait's concert draw set an attendance record outnumbering any event in NRG Stadium's history. An Allen & Heath dLive Digital Mixing System provided monitor support for Strait's 11-piece band in a unique in-the-round stage configuration.
Mixed by veteran monitor engineer and Allen & Heath USA Live Sound / Touring Manager Mike Bangs, the stadium show relied on the same dLive-centric monitor system design Strait has used on his string of sold-out Las Vegas T-Mobile Arena shows. Configured to address the challenges of a 50-foot square stage with limited sight lines, additional dedicated on-stage mix control was provided via networked Allen & Heath IP8 Remote Controllers.
Bangs noted, "The tactile control and on-the-fly programmability of the IP8s has a big impact on making the musicians feel comfortable in a complex sonic environment. I still maintain full control, but shows are much smoother with the IP8s placed around the stage. They allow me to really focus on George's in-ear mix."
"George's camp has been running with dLive for a couple of years now," added Bangs. "The monitor system was designed by Josh Kaylor and it has since become an essential part of the show audio system." Comprised of an Allen & Heath S5000 control Surface, a DM64 MixRack, and five IP8 remotes, close to 60 channels of audio are mixed and fed as needed to a dozen Shure PSM1000 wireless and six d&b audiotechnik M2 stage monitors. A Waves audio networking card provides 128×128 96kHz audio interface for multitrack recording and virtual soundcheck.
The NRG Stadium stage package and control system was provided by GP Productions, with stack and racks coming from LD Systems. A complement of roughly 400 L'Acoustics K1, Kara and ARCS speakers combined to provide uniform coverage across the full 360-degree seating area in the large venue.
Equipped with embedded DEEP processing, the Allen & Heath DM64 MixRack offers numerous compressors and processing emulations directly within dLive's input and mix channels. "While I have the option of interfacing to external tools for plugin processing, I've found everything I need so far 'in the box' with dLive," Bangs said. "With just a taste of EQ and the 16T, Opto compressor and a few Dyn8 here and there, I have a highly intelligible and musical mix. With the high stakes of a stadium full of screaming fans and an artist known for world-class live shows, having it all right under the hood in one system helps to keep things simple and highly reliable as well. With dLive, it was a thrill to sit back and enjoy the show along with 80,000 of my closest friends."