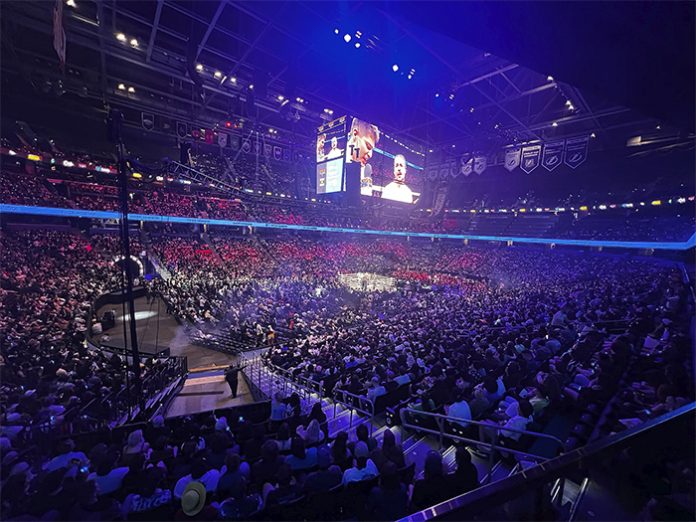 Funktion-One rental partner Nomad Sound Systems installed the largest ever deployment of Vero and Vero VX for Creator Clash 2.0 at the Amalie Arena in Tampa, Florida. The celebrity influencer boxing event welcomed 30,000 spectators to the arena and thousands more viewers around the world who tuned in for the PPV broadcast, with the winners' prize money going to their chosen charities.
Creator Clash's producers selected Nomad Sound System as the audio supplier, explained company founder Leo Eckersdorff: "A friend of mine based in New York reached out as he was the producer of this event and wanted to have an audio partner local to Florida that he could trust. This was a first 'in the round' event for Nomad Sound Systems and I believe one of the largest ever Vero and Vero VX deployments."
To meet the requirements of such a sizeable deployment, Nomad supplemented its own Funktion-One rental stock with Vero and Vero VX90 from Atlanta's Beware Productions. The show being in the round determined a requirement for 360° coverage, leading to a configuration of six centrally positioned, outward-facing arrays. Four hangs of 12 Vero cabinets were positioned at each corner of the video cuboid flown above the centre of the arena, along with two hangs of 12 Vero VX90s on the two longer pitch side edges, resulting in a total of 72 flown speakers. The system was driven by Funktion-One D-Series amplifiers with on-board DSP.
Todd Konecny from Funktion-One's US distributor, Coherent Distribution, provided the system design using Funktion-One's simulation software, Projection. He commented: "Vero was key to achieving proper coverage of the entire audience area, including the highest seats in the corners. The Vero system has extremely well-controlled directivity at distance, which helps to reduce reflections in this large of a space."
The Vero VX hangs were vital for achieving full audience coverage, explained Konecny: "The Vero VX90 is a medium-size cabinet that allows for a higher degree of articulation and excellent coverage up close to the hang. The VX clusters on the sides had to cover directly below the hangs and all the way up to the nosebleed seats. The 12 cabinets could be angled in such a way that the top boxes were hitting the highest sections and the bottom cabinet was pointing down to the floor. It was perfect coverage with no need for front fill."
Discussing the challenge of rigging such a large system, Eckersdorff pointed out the ease of working with Vero and Vero VX. "It was exceptionally quick for the number of cabinets we had in the air. We were on a very tight schedule and, really, using Vero and Vero VX made it possible for us to get it up in the timeframe we had. Getting that amount of PA up in the time that we did was pretty effortless."
On the audio performance, he added: "The system sounded great. Each of the hangs was split into two processing channels, long throw and short throw, enabling us to fine tune the level for both the people on the floor and those all the way up in the seats furthest away. The coverage was very smooth and impactful throughout the arena."