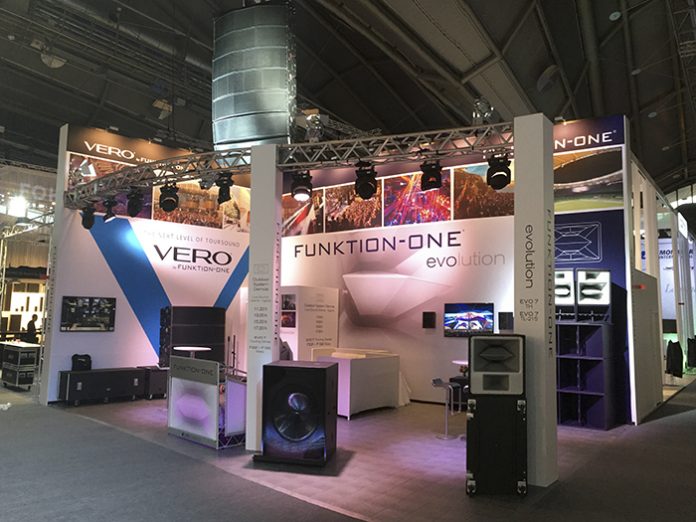 Funktion-One exhibited at the National Association of Music Merchants Show 2018 for the first time and used its 800 sqft stand – at North Hall Stand 1180 – to present loudspeakers from the its extensive product range, including US trade show debuts for Evolution and Vero, as well as the exclusive worldwide launch of the F124 bass enclosure.
The decision to become an exhibitor at the NAMM Show 2018 was based on a number of factors, explained Technical Sales Director, David Bruml: "The US market is more aware than ever of Funktion-One, thanks to the work of our US distributor, Sound Investment, and the arrival of Vero, which has been used on some really big events. We feel it's the right time to pay additional attention to developing the US market. We have chosen NAMM for that because we believe it's the right show, with the right people on the show floor – thanks in no small part to the organiser's increased focus on pro audio. We've considered exhibiting at NAMM for a number of years and are now convinced that our investment in time, stand costs, and travel are worthwhile. We're confident that our involvement in the 2018 show will be positive and productive, which is why we've committed to a large stand. We're really looking forward to it."
In recent years, Funktion-One has dominated the US nightclub market, with installations at standout venues like Cielo and Output in New York, Beta in Denver, Q in Seattle, Mansion 360 in Miami and Time in Orange County. In addition to that, the introduction of the vertically arrayed Vero system and Evolution Touring speakers has underpinned a significant increase in Funktion-One sound at gigs, festivals and other live events across the country; including Ultra Miami, What The Festival, Tipper at Red Rocks, Imagine Festival Atlanta and Deadmau5 at Nassau Colisseum.
Founders Tony Andrews and Ann Andrews joined David Bruml in making the trip across the pond, while Sound Investment were be represented by owners Dean McNaughton, Dan Agne and Todd Konecny. Dave Millard from FFA and NST Audio's Dan Cartman – manufacturers also distributed by Sound Investment in the States – shared the same stand.
Funktion-One's stand, presented in conjunction with Sound Investment, featured a flown Vero array, a flown Evo Touring array, plus a ground-stacked configuration comprising F124 and Evo 6E. Other products on show included the SB210A and F81 studio/small events system, PSM318 DJ monitors, a BR118 and F1201 pole-mounted system and a Formula Sound/Funktion-One FF4.2L mixer.
Andrews commented: "We hope that NAMM will be a very important show for us by providing a springboard for furthering our endeavours in what has always been an interesting market. We're in the midst of a very exciting time in Funktion-One's development, both in terms of technological innovation and market impact. Therefore, we're looking forward to building on the solid base we have in the States and to making new and important connections."