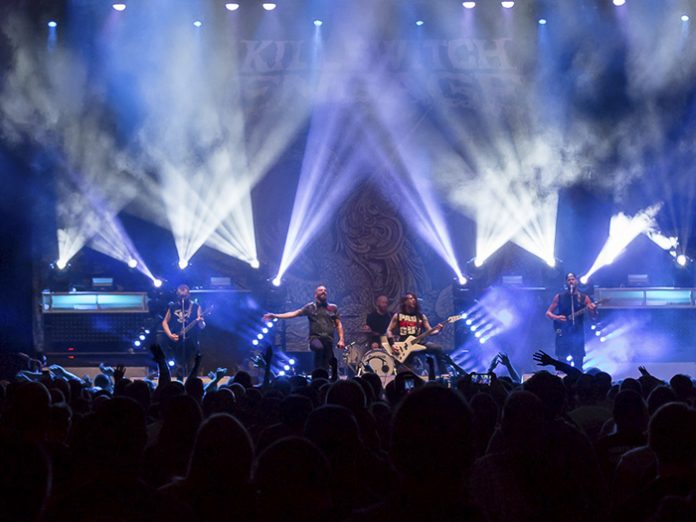 With over four million records sold in the US, a Grammy nomination, and songs on soundtracks for hits like Game of Thrones to their credit, heavy metal masters Killswitch Engage (KSE) have done it all. Still, 17 years after their founding, the band from Westfield, Massachusetts remains as raw, restless and hungry as ever. Not only does this celebrated group maintain a relentless touring schedule, they seem bent on pushing the musical envelope out a little further with each passing show.
This passion for defying comfortable expectations is shared by the band's lighting designer Freddy Thompson of JDI Productions. Working on the group's current tour in support of their album Incarnate, Thompson tore up his old playbook and rewrote the rules to come up with a light show that matched his client's ferocious sound with an explosive mix of fresh new looks. Key to helping him accomplish this feat was a collection of eight Rogue R1 FX-B fixtures from Chauvet Professional that he added to the tour rig.
"I was looking for something that could keep up with the direction the band is taking and do justice to the fast-paced music," he said. "When I first saw the R1 FX-B, I knew I found it. The RGBW colour rendering, pixel mapping, and 360° pan and tilts, give me this incredibly huge basket of looks to pull from to fit different stage setups at different venues. At the same time, it's still practical for a rig that's out on a constant touring schedule."
Thompson has made the Rogue R1 FX-B the central component of his floor package. "We have four five ft upright truss structures on stage," he said. "We put two of the FX-Bs on each of these units. A pair of the truss towers flank the drum kit, followed by two sets of four ft x six ft custom designed set carts on either side, each with two Rogue RH1 Hybrids mounted on top. The two other truss towers are located stage right and left. I use them to split the centre of the set carts."
Mounting the Rogue R1 FX-B fixtures on the face of the truss uprights, one above the other, allowed Thompson to create a line of pixel mapped LEDs across the stage. This creates a greater sense of depth, said the LD, which makes the impact of his light show more dramatic and complete.
"The FX-Bs are doing a spectacular job filling in any dark spots they may otherwise have been visible on the stage and creating some good eye candy with the beams from the LEDs," added Thompson. "Being able to have control of each cell allows me to change the look of the fixture for certain songs. I also have to say that the beams we're getting with the FX-B have really been impressive. I thought they would be more of a wash, but they're very intense, which fits KSE's music like a glove."
Critics have praised Incarnate for taking KSE's music to a deeper, darker and more complex level. Thompson's light show reflects this by creating multi-dimensional looks with a variety of different fixtures. In addition to the Rogue R1 FX-Bs and Rogue RH1 Hybrids, his rig includes four colour strobes, four Legend 230SR Beams, 12 Nexus Aw 7×7 warm white LED panels and eight COLORdash Par-Quad 7 fixtures.
However, it's the Rogue R1 FX-Bs in Thompson's rig that bring the whole design together. "The FX-Bs are the first infinite pan and tilt fixture with five individual LED tilts per fixture that I ever worked with," he commented. "They are giving me the ability to use this innovating design to create some different ACL style beam effects to add to the show. Josh Mihlek, KSE Production Manager, and Derek Iorfida of JDI Productions gave me some great input, and the FX-Bs have really helped me pull a lot of great looks together."