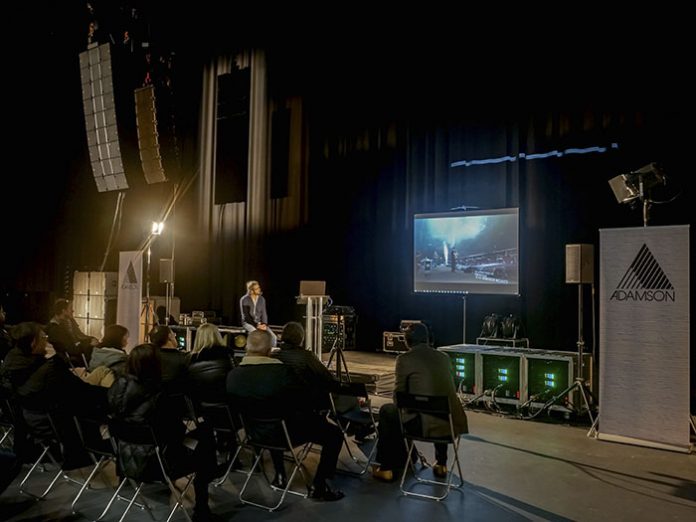 A wide range of leading industry professionals attended the first ever UK demonstration of Adamson's world class loudspeakers last week. The event was hosted by Adamson's UK partner The Warehouse Sound Services. The day-long event included a demonstration of Adamson Systems' E15 and S10 loudspeaker systems.  The demo was held in Fly By Nite's bespoke arena-sized rehearsal space for touring bands in Redditch.
Earlier this year, The Warehouse was named the sole UK distributor for Adamson. Already one of the largest suppliers of pro-audio equipment in the UK, The Warehouse opened a third branch in the North of England together with sales and support based in London to support Adamson's UK growth.
Over the last few months The Warehouse has invested heavily in Adamson E15 line arrays with E119 subs, S10 line arrays and the S119 compact subwoofers, dedicated amplifier racks fitted with Lab.Gruppen 20K44 amplifiers and substantial quantities of Point and Point Concentric speaker systems.  The demo provided audio professionals from across the UK the first ever opportunity to witness the capabilities of the Adamson System which is championed by leading Front of House Engineers.
Jochen Sommer, Adamson's Director of European Operations, presented the E15 to the attendees. E15 Line Array featured on most of the European festivals during the summer of 2016 and is fast becoming the most talked about large format system by some of the world's most respected FOH Engineers. The E15 provides the optimal solution for touring and rental houses that need system flexibility, fast setup / teardown speeds and superior sonic performance.
Jasper Ravesteijn, Adamson's European Sales Manager followed with a demonstration of the S10. The S10 is a two-way, full range, sub-compact line array enclosure ideal for arenas, theatres, churches and dance clubs, as well as outdoor festivals. The S10 line array pairs Adamson's controlled summation technology with a newly designed 10-inch Kevlar transducer to provide a performance level unheard of in this format. The S10 offers tremendous output for such a compact enclosure.
The system was powered by Lab.gruppen 20K44 amplifiers which were also being demonstrated by Adamson during the event. A diverse range of audio guests attended the event. These included audio rental companies, venue owners, theatre companies, installation companies, music and event promoters and sound engineers.
Derek Blair, Director of the Warehouse commented: "The system sounded fantastic!  We were delighted to have such a strong attendance at the event.  The audio professionals in attendance were extremely impressed with the S10's blend of performance, footprint and pricing and  equally impressed by the flexibility and sheer sonic capabilities of the E15."
Janet Murray, Director of The Warehouse, added: "The Warehouse has introduced the Adamson brand into the UK because we believe they represent the next evolution in loudspeaker design and implementation. In our opinion, the E15 and S10 line array loudspeaker systems offer a range of features that are far more advanced than the competition."