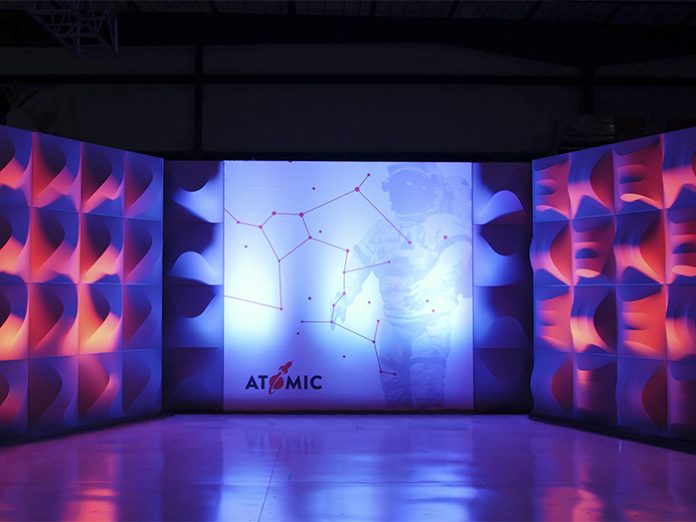 Atomic announce a new modular product line, the FABlok. Proceeding the company's award-winning FASTwall and SuperWall systems, the FABlok system consists of panels built with expanding fabric and tabbed inserts that pack small but play big when assembled to create the 3D panels. The FABlok product line takes all things that fabric does well and combines it with Atomic's patented SuperLever connector system.
As with all of Atomic's products, the extensive R&D process resulted in a new
product line built specifically for event designers to use creatively all while keeping modularity, logistics and budget in mind. FABlok can be built into walls, columns or backdrops with absolutely no tools or additional hardware and it packs completely flat. FABlok panels are ideal for front lighting and the soft fabric creates an excellent projection surface.
The FABlok build starts by inserting a bendable plastic piece into the fabric covered frame. FABlok panels morph and warp with the inserts like Dune, Notch and Wave to create unique patterns within the backdrop, wall or column being built. The FABlok fabric provides a soft, light absorbing backdrop for a stage, studio or event space as well as providing a surface area that can be branded for any event. FABlok offers multiple branding options with custom printing, projection or lighting.