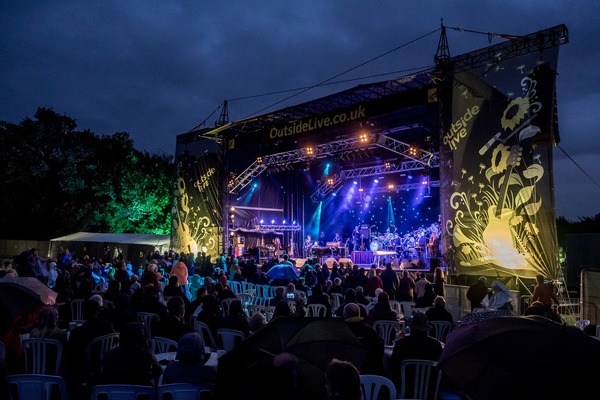 Event Sound and Light were contracted to provide a full turnkey production solution for Outside Live 2017, which took place at Taverham Hall, Norwich in 2017, supported by a range of Martin Audio fixtures.
The event, held over the course of 3 nights, each with their own headline act; Jools Holland and his Rhythm & Blues Orchestra, The Royal Philharmonic Concert Orchestra and The Shires, were among the musicians to grace the stage.
Sound Designer Jason Fenn chose to deploy a full Martin Audio system for the event, preferring a combination of MLA Compact cells with MLX subs in cardioid format for a number of reasons. "The concerts were sold as a 'picnic' style event so we knew we had to have even SPL from the front row to the very back. On top of that, the event site was very close to a neighbouring village so keeping our off-site noise to a minimum was essential. The other deciding factor for choosing Martin Audio MLA was the superb audio quality and sonic excellence that the system delivers."
Additional Martin Audio DD12s were deployed for infill and centre fill duties, with the entire system managed by Martin Audio's dedicated Merlin control rack. Fenn reported that their clients from Outside Live were "over the moon with the audio quality from the moment we turned on the system." He added: "Our ability to move the audio coverage meant during sound checks we could really contain the offsite audio spill and then open the array back up to cover the whole site for the show."
Event Sound and Light's Front of House Engineer for the weekend was Tristan Mallet, who remarked: "I've had numerous experiences with MLA and never had a bad one yet. ESL are masters of patch and thanks to MLA we had a seamless operation all weekend."
With a multitude of guest engineers and 120 microphones to comply with the 60-piece Royal Philharmonic Concert Orchestra's requests, ESL's System Technician Mark Wass had his hands full. While Dave Bland supported on the house monitor board, while Richard Coombes provided the task of patch complemented the crew.