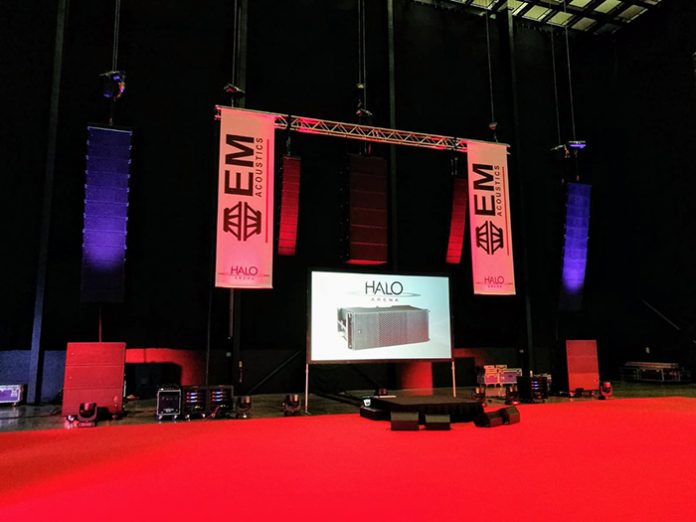 EM Acoustics recently put its brand-new HALO-A large format line array system through its paces during 2 days of intensive demos at London's LH2 rehearsal/production studios.
In addition to HALO-A, the company also took the opportunity to show off the compact HALO-C line array – the inspiration behind HALO-A – as well as several EMS Series models, including the new, award-winning baby of the range, the EMS-41.
According to operations director, Mike Wheeler, the event was an unqualified success, generating extremely positive reactions from attendees. "Firstly, the venue was amazing," he said.
"We had enough space to demo HALO-A properly and compare it to the much smaller HALO-C system to prove to visitors that we really have managed to take HALO-C to the next level – the natural EM Acoustics sound that they have always loved is replicated in HALO-A, just with much more power.
"Indeed, the comments that came back to us time and again over the course of the two days were that people were genuinely gripped by the system's effortless power and headroom, clearly demonstrating that HALO-A is a force to be reckoned with in terms of output. The rear rejection was also staggering when you consider that there is no "active" rear cancellation – but simply innovative cabinet design and first-class construction quality.
He continued: "The system was giving everyone a proper sense of show output in front, yet immediately behind it we could hold conversations at a sensible level. We're really proud of this as we've managed to achieve something that other, competing top-level manufacturers are quite rightly pushing as a big selling point for their flagship systems, but at a fraction of the cost and without the complexity."
R&D director, Ed Kinsella, noted: "It has taken many years to get to this point, and the results are very gratifying. I honestly think this is a system that will provide not only a powerful commercial solution for a wide range of customers but also something that is genuinely enjoyable to use. There is no smoke and mirrors here, simply state-of-the-art componentry and technology combined with the right physics and excellent construction. It's a combination that yields the big open sound that people want in seemingly effortless fashion."