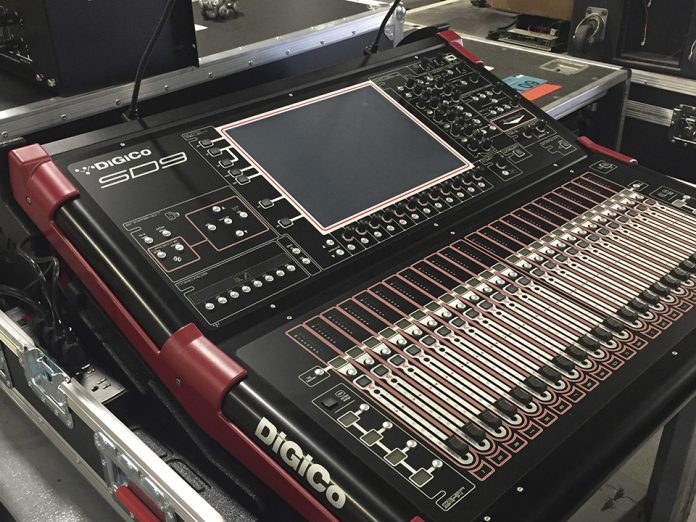 As a full-service touring and live event production provider, Nashville-based Elite Multimedia is excited to announce the acquisition of new DiGiCo and L-Acoustics audio gear for touring and live event production designs. Spurred by the demand for a powerful and compact audio package, the new audio inventory includes a DiGiCo SD9 digital audio mixer, along with an L-Acoustics system of 16 Kiva II cabinet speakers, eight SB18 subwoofers and LA4X amplified controllers.
"Over the last several years, we have experienced an increase in our client requests for more touring audio packages, so it was time for us to make the investment in the additional technology that would strengthen our brand as an audio production provider," said Harry Shaub, Elite Multimedia Head of Audio. "We are already prepping the gear to go out on a summer tour we began working with last year, and we're excited to be giving them some great new gear for their audio design."
Knowing the type of system that their clients were looking for, Shaub began researching the various audio solutions available. With many quality audio manufacturers on the market, he explained that the choice in gear really came down to performance and the ability to expand upon the gear in the future.
Shaub continued, "When looking at the different audio mixers, DiGiCo really is the number one touring console manufacturer today. We have had a number of tours request it specifically, so we listened to our clients and purchased what we believe to be the most complete mid-size audio mixer available."
The DiGiCo SD9 is a flexible and integrated system powered by Stealth Digital Processing and floating point Super FPGA technology. This lightweight, small-footprint console was designed for multiple applications including touring and permanent installation, and it features 24 touch-sensitive motorised faders with quick access function buttons for faster response times while using a 15-inch, high-resolution TFT LCD touch screen with backlit display.
"With the L-Acoustics system, we did a shoot-out with a couple of different manufacturers and it really came down to was the relationship we have with L-Acoustics and the potential for furthering that relationship as we grow into more touring audio designs," added Shaub.
An ultra-compact modular line source, Kiva II adds 6dB of max SPL versus its predecessor and a maximised amplifier density with 16Ω impedance. Weighing only 31 pounds, the Kiva II features L-Acoustics' Wavefront Sculpture Technology which provides a long throw capability and delivers even SPL from the front row to the back of the audience. Additionally, its coplanar transducer arrangement and new K front grill generate a symmetric horizontal coverage of 100° without secondary lobes over the entire frequency range.
The L-Acoustics SB18 is the universal subwoofer designed for modular WST line sources and coaxial systems, lowering the combined system operating range down to 32Hz. Its compact size and integrated rigging make it extremely well-suited for flown coupled configurations, and the association of a specifically designed 18'' transducer with a dual bass-reflex tuned enclosure provides exceptional impact and high sensitivity, low thermal compression and reduced distortion.
The LA4X amplified controller is based on a four input by four output architecture combining the benefits of the self-powered speaker packages with the flexibility of outboard DSP and amplification. L-Acoustics loudspeaker enclosures can be driven by the LAX in three different modes which also features a green SMPS power supply with PFC, and its high-efficiency class D amplification is capable of delivering 4 x 1000W power with class leading hold times.
"This new audio rig is going to be an incredible solution for both our touring and corporate clients," concluded Shaub. "It's so small physically, but so powerful technologically, that it can pack into any touring trailer, or load quickly into any corporate setup, and simply blow the windows out of a number of different venues."