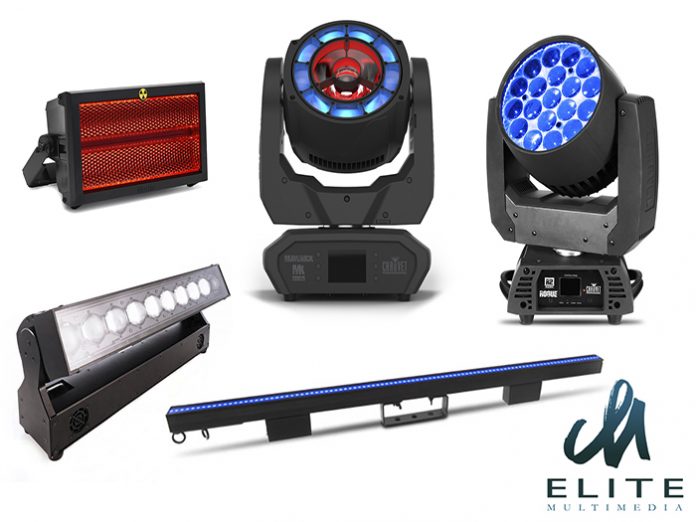 Elite Multimedia has announced the addition of lighting solutions from Chauvet Professional, Martin Audio and German Lights Products to its rental inventory.
Alongside the delivery of Chauvet Professional Maverick MK PyXis, Rouge R2 Wash and Epix Strip IP's; Atomic 3000 LED from Martin by Harman; and German Light Products X4 Bar luminaires; Elite Multimedia's new inventory is now available through its Nashville office.
"Anytime we have the opportunity to strengthen the breadth of lighting solutions we can offer our clients, we are very excited to do so," stated Jason 'Cannonball' Jenkins, Elite Multimedia Director of Operations. "So often today, we have designers who are wanting a multitude of design possibilities from their lighting rigs, and the acquisition of this gear from these three manufacturers now gives them even more creative options."
The award-winning Chauvet Professional Maverick MK Pyxis provides a variety of looks through its ring of nine 15W RGBW LEDs and a 60W RGBW LED serving as a centre pixel with a 3° beam angle. Using 19 RGBW 15W quad-LEDs, the Chauvet Professional Rogue R2 Wash offers 5 zones of LED control, a zoom range of 12-49 degrees, and utilises a unique lens design for excellent colour blending. A dynamic IP65 outdoor-rated, pixel-mapping LED strip fixture, the Chauvet Professional Epix Strip IP is ideal for festivals, concert touring, and installations, and offers pre-built content for easy onsite programming.
The blend of a traditional strobe and cutting-edge LED technology, the Martin by Harman Atomic 3000 LED is capable of the same brightness as its iconic predecessor, but with substantially lower peak power consumption. A creative tool that incorporates backlight illumination with RGB-controlled LEDs pointing into the reflector, it delivers looks similar to the MAC Aura and the MAC Quantum Wash.
The GLP impression X4 Bar uses high-output RGBW LEDs and high-quality optics to ensure a smooth, homogenised output through a broad pallet of pastel and saturated colours. Capable of smooth, even fades, the impression GLP X4 Bar also offers 7:1 zoom, ranging from 7°-50°, and a motorised tilt.