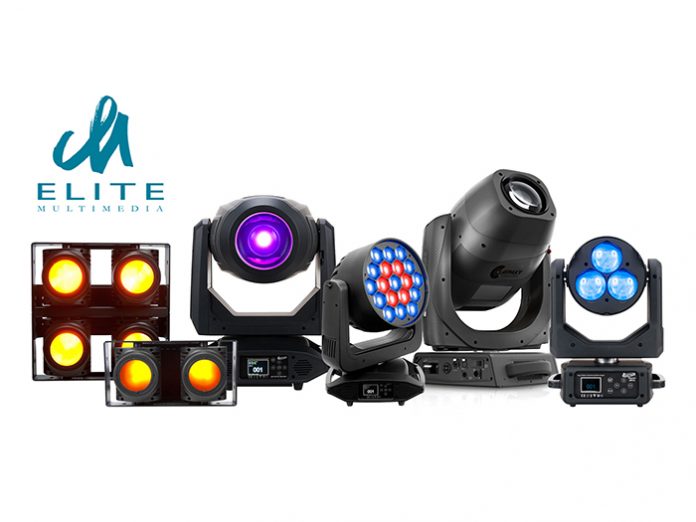 Elite Multimedia has expanded its rental inventory with the addition of Elation Professional Artiste DaVinci, Platinum Seven Wash, Rayzor 360Z, DTW Blinder 350 IP and 700 IP fixtures, along with a new shipment of Claypaky Scenius Unico luminaires. All the innovative design solutions are now available through the Nashville headquarters of the production partner.
"We have been very fortunate at Elite Multimedia to be experiencing a sustained growth in our rental operations for both concert touring and other live event production designs," said Jason "Cannonball" Jenkins, Elite Multimedia Director of Operations. "To keep pace with this growth, we are very excited to be bringing in additional inventory from both Elation Professional and Claypaky that will provide our clients with an even greater depth of creative possibilities."
Using a 270W Cool White LED engine, the Elation Professional Artiste DaVinci delivers over 12,000 total lumens with an ultra-wide 6-48° zoom, full CMY colour mixing, linear CTO colour correction, 7 dichroic colours, and both rotating glass and static metal gobos. The Platinum SEVEN Wash is a high-power 7 colour wash luminaire, featuring (19) 25W multi-chip LEDs including Red, Green, Blue, White, Amber, Cyan, and UV, along with a fast 5-50° beam angle zoom range. A compact beam and effect luminaire, the Rayzor 360Z features an 8-77° motorised zoom, full 360° pan and tilt rotation, pixel control, adjustable colour temperature, an electronic strobe, dimmer, and selectable dimming curve effects for the 3 60W Osram RGBW LEDs. The IP65 rated DTW Blinder 350 IP and 700 IP feature 2 (350 IP) and 4 (700 IP) high-powered 175W 2-in-1 Warm White/Amber COB LEDs, a wide beam angle, full colour temperature control, independent Dim-to-Warm channel control, and an easily attachable 15° narrow beam filter.
The Claypaky Scenius Unico utilises a 1400W Osram lamp, to produce beautiful spot effects, with 6 rotating gobos, a rotating prism, an animation wheel, and a precise framing system. Also an excellent wash light, the Scenius Unico features a system of varying diffusion filters, plus it can produce a powerful and narrow beam of concentrated light, with a minimum beam angle of only 5 degrees.