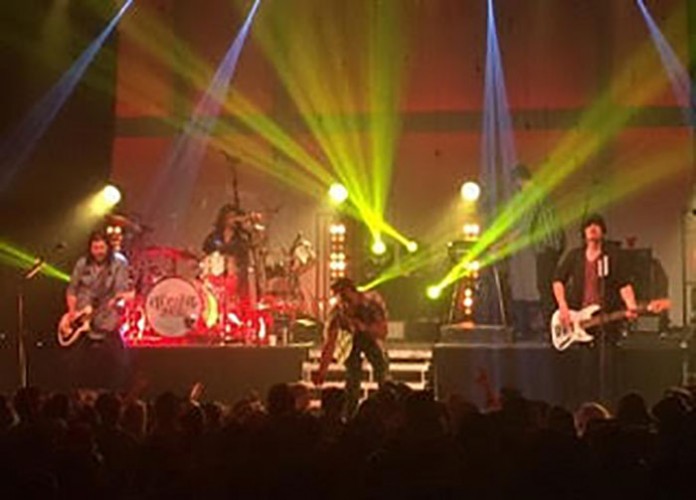 The stately Cone Denim Entertainment Center has been at the heart of the entertainment scene in Greensboro North Carolina for over 100 years. Opened in the early 1900s as a movie theatre, the three tiered structure was reinvented as a concert/event venue earlier in this century. As such it holds delightful surprises for Greensboro residents. Recently, it also provided an unexpected eye-opening experience for lighting designer Dave Carr.
Carr, the lighting designer for The Academy of Country Music Award winning Eli Young Band, was ready to depend on the house rig at the Cone Denim Entertainment Center when the group performed before a sellout crowd at the historic venue. "When we do a lot of gigs, we wind up counting on the house rig," he said. "This is what we did here in Greensboro."
Like Carr's own rig, the setup at the Cone facility had a good representation of Chauvet Professional fixtures. Among them were eight Ovation E-190WW LED ellipsoidals in the FOH rig. "A friend of mine had used the Ovation product in the past and raved about them, but it was new to me," said the LD. "When I saw them on the house system, I put them through some motions. Yes, I was very impressed with their output. If I didn't know they were LEDs, I would have sworn they were the leading incandescent – that's how bright they were."
Carr was impressed by more than the fixtures output. The colour temperature and smooth dimming of the Ovation fixtures. "The colour temperature was critical because you want the band members to look good live and on video," he said. "The dimming helped me move through the show, making subtle changes to reflect the mood of the music."
The brightness of the Ovation fixtures also helped the FOH lighting stand up against the Upstage rig's high output products, a collection that included four Rogue RH1 Hybrids, eight Legend 412z moving wash and 22 COLORado 1-Quad Zoom Tour par style fixtures. "We had a lot of firepower upstage, which served us well because of the intensity of the Eli Young Band's style of West Texas Swing country music," said Carr. "However, this can sometimes overwhelm your FOH lighting, but the Ovations were more than up to the challenge."
Delivering high output from a relatively small number of compact fixtures was critical for Carr given the size of the Cone centre stage. "The big challenge in this project was the size of the stage, so compactness and high output were very important," he said. "My goal was to create a variety of looks from simple and soft to high energy because that's the way the band's music flows. I love the big washes with beams that cut through the other lights and I got this with the Rogues.
The house rig and the helpful crew at the Cone Denim Entertainment Center really helped make something very good happen for the Eli Young Band."