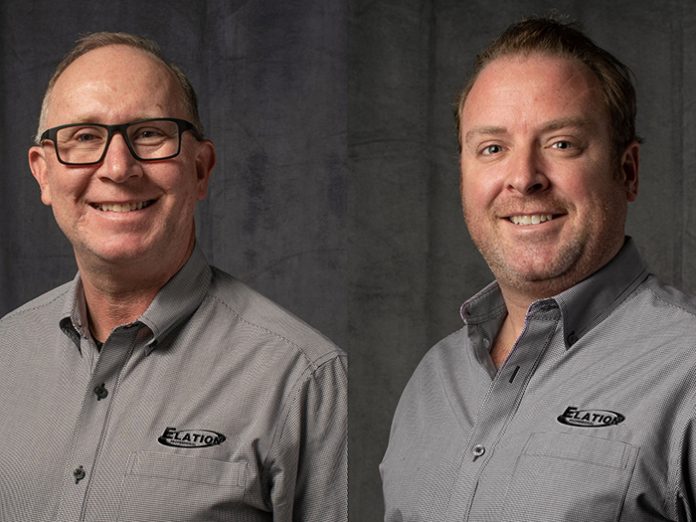 Elation Professional has promoted Eric Loader to Global Vice President of Sales & Marketing and John Dunn to Director of Sales – U.S. The promotions reflect not only their exceptional performance and leadership within the company but also their ability to think strategically in order to move Elation forward.
ADJ Group President, Toby Velazquez, has worked closely with both Eric and John over many years in building the flourishing Elation brand. He commented, "Eric and I have a successful history spanning over three decades and John's contribution to Elation's ascent as a premier brand in the industry over the past decade has been extraordinary. We couldn't ask for a stronger team to drive the company's growth and keep Elation at the forefront as an innovative, reputable, and leading brand in the industry."
Eric Loader, with 17 years of dedicated service to Elation, has been instrumental in driving the company's growth and expansion. In his new role, he will continue to lead the company's strategy and growth vision through its subsidiaries and partners worldwide. He will also focus on strengthening distribution partner relationships and increasing brand awareness, key factors in ensuring continued growth for the company. Additionally, Eric will work to expand the availability of Elation's award-winning products to lighting designers, ensuring that customers around the globe have access to the innovative solutions they have come to expect from Elation.
Loader commented, "I am honored to lead the Global Sales & Marketing team at Elation. The success we have achieved is a testament to the incredible team we have built, as well as the support of our customers and designers who have helped elevate Elation to perform at the top of the market. I look forward to continuing to drive growth and success for the company."
John Dunn, who has been with Elation for over 9 years, will continue to lead and build the U.S. sales team to ensure further growth as Director of Sales – U.S. He has been a driving force behind Elation product adoption within the design community while at the same time growing sales exponentially during his tenure with the company.
Dunn stated: "The opportunity to serve as Director of Sales and work alongside our spectacular sales team to achieve all new levels of success is a privilege. We continue to create a culture of collaboration and excellence through product innovation, strong relationship building and delivering an exceptional value proposition for our customers. I look forward to continuing that journey."