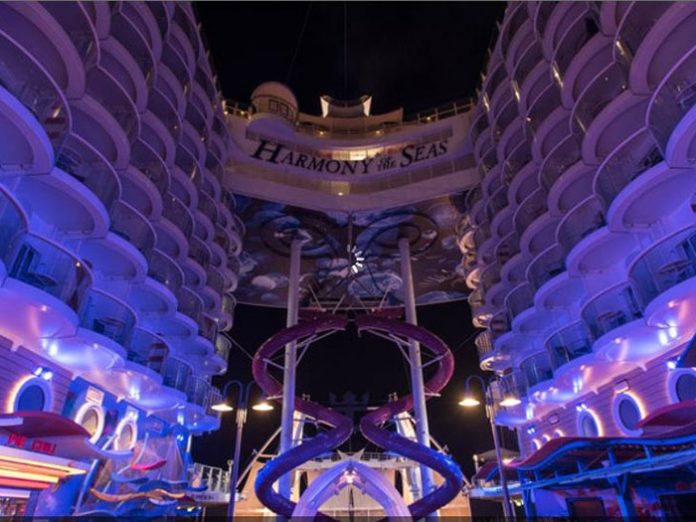 The largest cruise ship in the world, Royal Caribbean International's Harmony of the Seas, has set sail with a large energy-efficient Elation Professional LED lighting package. Sound, light and stage technology for many of the public areas onboard Harmony was installed by VIDELIO-HMS, including engineering and commissioning.
"There is a lot of LED on board," stated Christopher Vlassopulos, Superintendent SLVR & Architectural Lighting for Royal Caribbean International, who coordinated the design and specification for all the entertainment equipment in the ship's public spaces, including the ship's entertainment lighting systems. "This ship is really a testament to how far LED technology has come since Allure of the Seas launched seven years ago."
Lighting onboard Harmony has the same energy-efficient role and the savings are marked. Vlassopulos explained: "By switching from incandescent to LED we benefit from less maintenance and less power used, and with less heat generated there is a lower burden on the air conditioning system which translates into power and fuel savings. The dollar savings over the lifetime of a ship is quite significant." The savings extends to other areas as well. With the Elation LED systems there is less cabling, fewer connections to contend with, and there are no dimmers to work with.
He added, "It's more sophisticated lighting yet with money savings." Another factor that shouldn't go unstated is the fact that the Elation products must also hold up to the harsh environment onboard a ship – the constant motion, exposure to salt water, humidity and high temperatures.
Its Grease production features Elation Platinum Series and Satura Series moving heads along with ELED series LED strip lights. Figure skaters perform a show beneath a lighting rig made up of Platinum Series and Satura Series moving heads along with Elation Colour Chorus LED battens. And when strolling down the Royal Promenade Elation LED moving heads and LED Par lighting is used as atmospheric and show enhancement.
Outside, Elation's ELAR 108 Par RGBW fixtures are used in several areas including the open-air stage and acrobatic performance space the AquaTheatre and more. ELAR 108 Par lights have been a staple on Royal Caribbean ships as a powerful wash light.