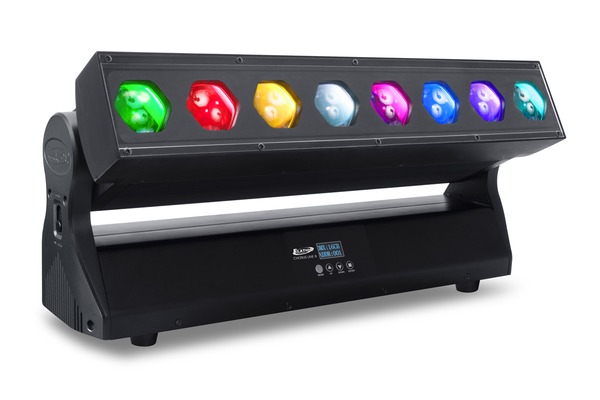 Elation Professional Lighting debut new range of multi-purpose LED batten wash luminaires feature a wide motorised zoom, dynamic 220° tilt axis movement and the power to compete with LED video.
"With the continued improvements in LED technology, the possibilities to use linear LED battens for everything from dynamic visuals to more practical lighting solutions have increased. With the advent of pixel control used as direct eye candy and the ability to use it as a stage wash or foot light, the Chorus Line represents the latest in LED pixel bar effects. The added zoom optics on the LEDs allow it to be used to light objects, scenery, cycs and stages, and the tilt motor function allows it to position or move dynamically during a show, all adding to its capabilities," commented Elation Sales Director, Eric Loader.
The new Elation range is available in 8-pixel bar Chorus Line 8 and the 16-pixel bar Chorus Line 16. Both luminaires house 40W RGBW LEDs with full pixel control. The OSRAM 40W RGBW LEDs allow the Chorus Line to perform on the largest stages and compete with the bright LED video screens used on most large productions.
The Chorus Line 8 and the Chorus Line 16 feature RGBW colour mixing, presets and unique colour macros are included as is an electronic strobe, 16-bit dimming and variable dimming curves. PWM frequency can be adjusted and adapted to individual requirements. The Chorus Line is equipped for professional control and can be operated via DMX 512-A with full RDM and Luminex Art-Net DMX support, as well as KlingNet protocol.