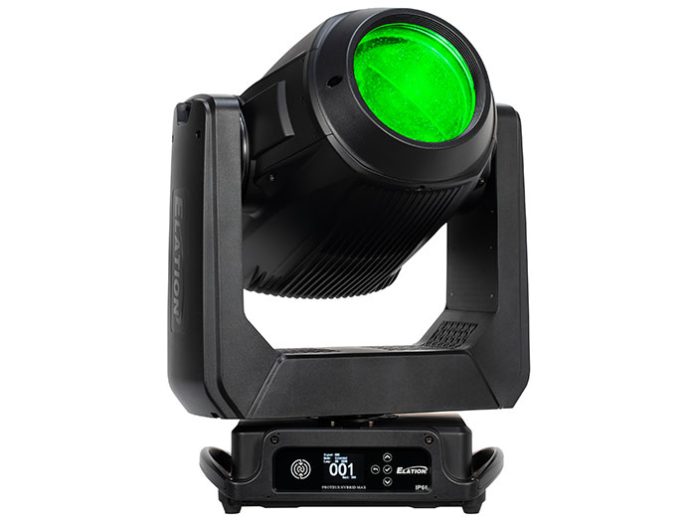 Elation Professional has launched Proteus Hybrid MAX.
CreatING wide ranges of powerful effects from a 1.8° shaft of light to a  45° wide beam, and everything in between. In fact, the zoom offers a range of all hybrids available in the market. An added frost softens light allowing the unit to be used as a wash unit at any angle from the extra-large 170mm front aperture lens.
Powered by the Philips MSD Platinum FLEX 500 lamp with lamp life of up to 4,000 hours, and boasting a 22,000 lumens the Proteus Hybrid MAX produces potent beams, gobos, and washes.
The lamp offers variable operation for power savings and increased efficiency, while still delivering output comparable to large format Xenon fixtures but with a smaller footprint. The Platinum lamp is dimmable for even more savings and a Hibernation Mode reduces power to the lamp when not in use.
The Proteus Hybrid MAX is also about speed and precision. Speed moves to the forefront with Elation's Fast Advanced Features (FAF), a novel initiative that enhances the speed of most attributes of the Proteus Hybrid MAX.
A revamped CMY colour mixing system with 16-position colour wheel offers colour options and is fast for immediate, seamless transitions and instant colour bumps.
The Proteus Hybrid MAX has eight rotating replaceable glass gobos, 16 static-fixed metal gobos, and a host of animation options from Elation's Tri-Tier Animation system. Three animation surfaces with multiple motion tracks add explosive visuals to craft concerts and stage shows.
Creative options abound with the Proteus Hybrid MAX, the fixture can pan continuously while ensuring that the other fixtures in the rig are in synchronicity. Elation's new SpinSync tracking functionality allows rotation of the head in a continuous 360° pan.
The Proteus Hybrid MAX included Elation's innovative Sky Motion system. The Sky Motion system allows standalone operation and is easy to set up and adjust directly from the fixture display, even for non-lighting users, expanding the usability of the fixture beyond traditional show lighting applications. Multiple fixtures can be interconnected and with the simple assignment of IDs.
With DMX, Art-Net, sACN, and RDM support, and internal program macros for programming, the Proteus Hybrid MAX gives users control. It's also Elation's first fixture to feature NFC (Near Field Communication) and Aria X2 (wireless DMX). NFC allows you to setup and test fixtures from your phone while Aria XR is the n wireless DMX control offering expanded range coverage.