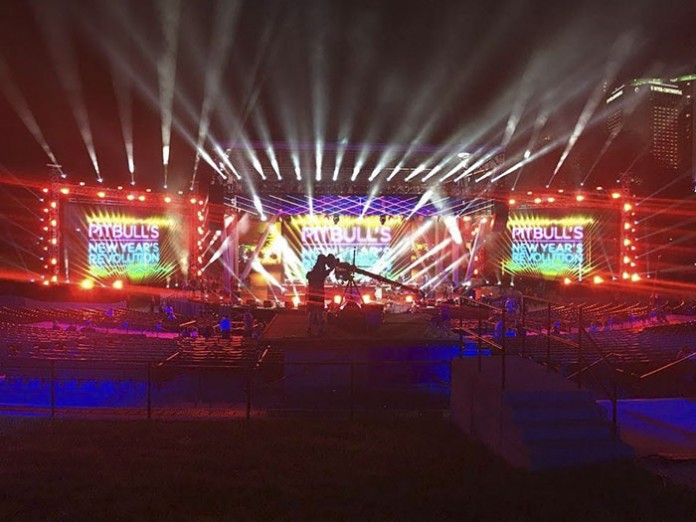 Lighting Designer Tom Kenny turned to Elation Professional's new Platinum FLX hybrid moving head to light Pitbull's New Year's Revolution television special, broadcast live on Fox television to a nationwide audience on New Year's Eve.
This was Kenny's first year doing the show and his first opportunity to use the award-winning Platinum FLX luminaire. "I'd been looking at Elation for quite a while and had the chance to use 60 Platinum Series fixtures on last year's MTV European Music Awards show in Milan, which worked out really well. For the Pitbull New Year's Eve show, they wanted more of a live concert feel so I turned to the Platinum FLX fixture and was impressed with the looks it gave."
Kenny worked with full service sound and lighting company Beachsound & Lighting, who partnered with Main Light Industries of south Florida to provide the fixtures for the show. "We had high trim heights but the FLX fixture's strong beam could compete with the other fixtures in the rig," commented Kenny on the 20,000-lumen strong hybrid light. "It was also in competition with a lot of video content but cut through. They also have lovely colours and gobos."
The Platinum FLX fixtures were lined on top of and bookended on either side of LED video screens and used for big searchlight-type looks. The lights performed perfectly straight out of the box and the show looked amazing, according to Kenny, who also reports that programmer Michael Appel was happy with the speed of the fixture and felt comfortable working with it.
Pitbull's New Year's Revolution is produced by hip-hop artist Pitbull and broadcast from New Year's festivities held at the Klipsch Amphitheatre at Bayfront Park in Miami, Florida. The show has emerged as a competitive celebration to ABC's Dick Clark's New Year's Rockin' Eve that airs each year from Times Square in New York. On Pitbull's New Year's Revolution Pitbull, Earth Wind and Fire, Pia Mia and Shawn Mendes performed alongside many of the top chart toppers in today's music. The 2016 edition, the event's second year, played to a huge live audience and brought notable gains in television ratings compared with last year's show. Pitbull and John Hamlyn executive produced the show alongside Fox and production company Endemol.
"The show was a huge success and all the equipment held up to extreme heat and moisture as Bayfront amphitheater is located right next to the ocean. The fixtures had to deal with lots of distress like 100-degree heat and moisture and they held up well. I'm very impressed with the Elation line," Kenny concluded.