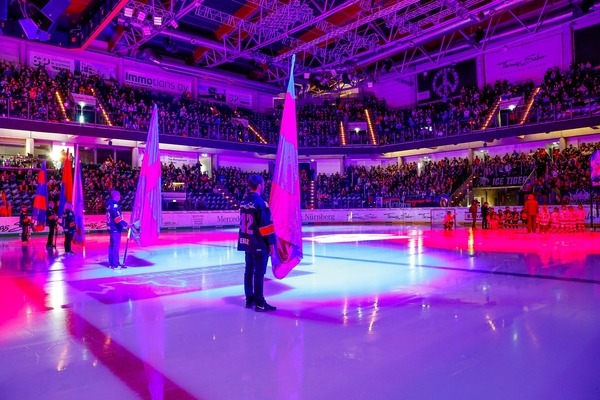 Professional German ice hockey club, the Thomas Sabo Ice Tigers, took to the ice, with lighting effects comprising Elation Professional Platinum 1200 Wash, Platinum FLX and Platinum Beam 5R Extreme lighting fixtures.
Elation Professional Lighting dealer and entertainment technology solutions provider sld mediatec GmbH, also based in Nuremberg, has partnered with the Thomas Sabo Ice Tigers for the past 7 years. For the 2017/2018 season, sld mediatec's Head of Lighting and Rigging, Sebastian Groß, opted for 8 Platinum 1200 Wash, 4 Platinum FLX and 12 Platinum Beam 5R Extreme lighting fixtures during the pre-match ritual.
sld mediatec's Daniel Danzer commented: "The Platinum 1200 Wash is exceptionally bright and puts down a nice flood of colour, even from a high trim height. With its 19 65W LED engine it produces colour washes as bright as 1500W discharge fixtures and has plenty of power for this application. It also has a very nice zoom. We can zoom it out very wide to get more coverage or narrow it down for a tighter beam, with the hybrid FLX fixtures we have the option to use it as a beam light for sweeps of beams on the ice or as a spot. We can use the frost as well if we want to use it more as a wash light to get more colour saturation on the ice."
Over the years, Daniel says that sld mediatec has used a lot of Elation products at Ice Tiger games. "They're great products and a great value and the Ice Tigers organisation has been great to work with. The players, coaches and staff really appreciate the energy that the light show gives them before each game," Danzer concluded.