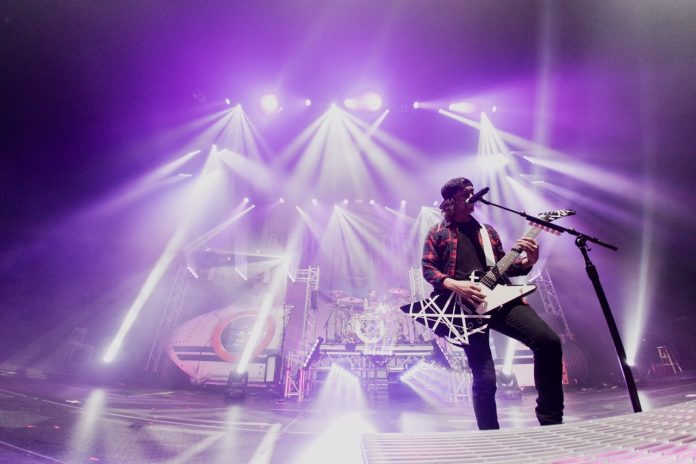 Lighting Designer Jeff Maker turned to an Elation LED lighting package for Pierce the Veil's recent Made to Destroy tour, his second year with the band, and was delighted with the results. "Elation continues to impress me – we were on tour for 7 weeks (32 shows total) and I didn't have one issue with any of the units."
The tour played with lighting vendor JR Lighting Design, supplying an Elation rig made up of ACL 360 Bar LED battens, SixBar 1000 LED battens, SixPar 100 LED Par lights, and Protron 3K LED strobes along with Antari Z-350 Fazers. "Recently we have added more Elation Professional equipment into our production rental inventory as we find that it offers high reliability, great performance, and value as well," stated Jason Reberski, President of JR Lighting Design.
Maker, who was nominated for a 2012 Parnelli Award for Lighting Designer of the Year and TPI Award for Lighting Designer of the Year in both 2015 and 2016, knows what it takes to wow a crowd. He describes the beginning of Pierce the Veil's set, a captivating look in which a white kabuki drop is used as a projection surface for an animation of the band 'crash landing' at every market. "Each was custom to each city," he said. Used to make the rocket set pieces and fluorescent painted backdrop pop were Elation SixPar 100 LED Par lights with single-lens RGBWA+UV LEDs. Maker placed nine fixtures downstage, three under three separate ego risers, six focused on the drop / set and three up straight to uplight each band member while they stood on their ego risers.
Used to uplight upstage backdrops were SixBar 1000 LED battens. "We had another kabuki system upstage to reveal a fluorescent painted backdrop and used the SixBar fixture's UV feature to help make it pop," Maker explains. JR Lighting's Jason Reberski added, "The SixPar and SixBar range has been very successful for us. In fact, it is rare that we provide a tour or show that doesn't have a few SixBars or SixPars on it! They produce a wide range of colour and high quality white light mixes in a host of form factors and the addition of true ultraviolet LEDs increases their usefulness in our inventory."
Maker, who also handled programming on the tour, turned to the ACL 360 Bar, a versatile moving batten with seven 15W RGBW LEDs and continuous rotation, for dynamic movement effects. "This is the 4th tour where I've spec'ed the ACL 360 in my design," he said. Maker praised the ACL's 360-degree pan and tilt, the individual LED control which he used to create multiple colour and chase layers, and the smooth speed of both the pan and tilt. "They are also an extremely durable fixture," he added. Eight of the fixtures were placed on two separate torms rigged upstage left and right, three mounted mid stage left and three mid stage right cross sections, with five mounted in front of the drum riser creating a massive "V" that would ultimately translate to the veil in Pierce the Veil.
Tour Manager was Matt Jara-Ratajsczak, who offers his unique perspective on why lighting fixtures need to be tough for on-the-road productions. "As a Tour Manager that sometimes doubles as a PM I often get stuck with the responsibility of seeking out replacement fixtures when we have fixtures that fail on tour," he said. "We didn't have a single Elation fixture compromised over the length of this entire tour. The reliability is a testament to how well they are built and the thought that has gone into the design and function."