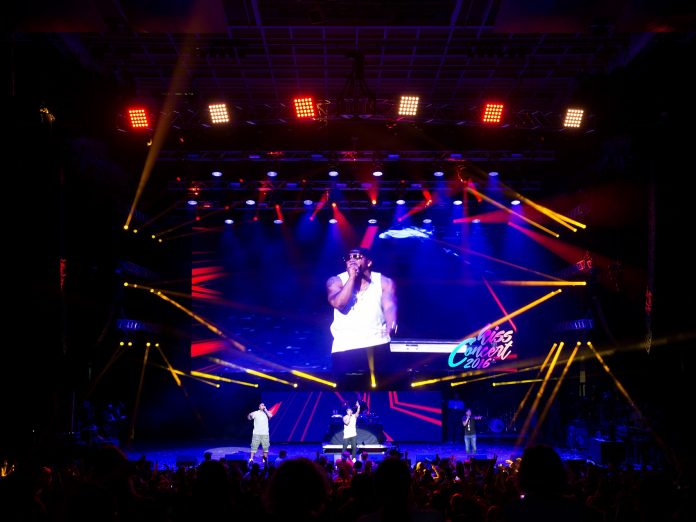 This year's edition of Kiss 108's annual Kiss Concert featured not only a host of high profile acts such as Flo Rida, Iggy Azalea and Nelly, but Elation Professional's EPT6IP LED Displays, supplied by East Coast Lighting & Production Services (ECLPS). Held on Saturday 18 June at Xfinity Center in Mansfield, Massachusetts, all lighting for the popular event was supplied by the Rhode Island-based company.
ECLPS has handled lighting for the summer bash for over 25 years but this year they also provided the video system for the first time, using 213 of the EPT6IP video panels for a large, upstage IMAG display (42-inches wide by 19-inches high) that showed graphics and live footage from the stage while a 22-inch wide by six inch high screen was used for a rolling DJ riser video façade.
Nate Almeida of ECLPS designed the lighting and video looks for the show, working with Lighting Director and Programmer Chris Griffin. Video processing came from a pair of Elation-distributed Novastar NovaPro HD units.
Working with the EPT6IP panels and aimed out to the audience on the downstage truss were six Elation Cuepix Panel LED matrixes. With 25 RGB LEDs on each panel and individually controllable pixels, they were used for video and lighting to create a variety of effects from pixel mapping to blinder effects.