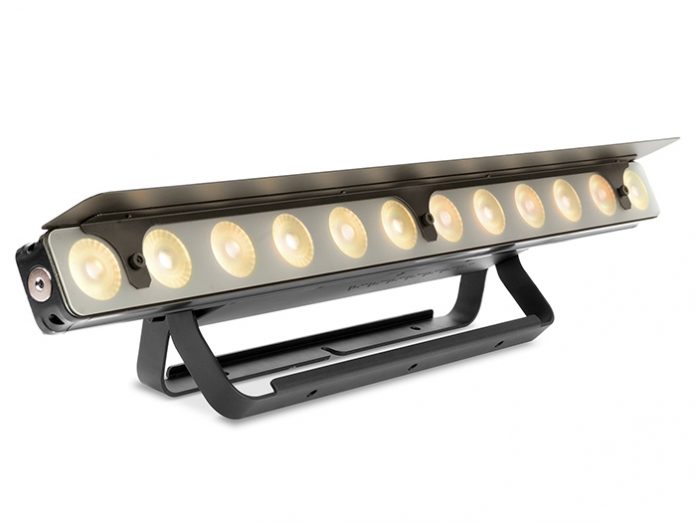 Elation Professional has launched its new DTW Series of variable white LED lights. The three products from the series now available are the DTW Par 300, DTW Par Z19 IP and DTW Bar 1000.
All three fixtures feature full colour temperature range control from 2,700K to 6,500K plus independent dim-to-warm channel control from 1,800K to 3,200K for accurate rendition of traditional tungsten halogen lamps. All DTW Series fixtures come with variable dimming curve modes, strobe and chase effects included.
The DTW PAR 300 houses 16 10W multi-chip CW/WW/Amber LEDs, and has a beam angle of 23° with an output of 23,130 LUX at 3.3ft. The fixture is controllable via multiple DMX channel modes and includes ArtNet and KlingNet protocol support. Outfitted with RJ45 and power in/out connections, it measures 14.4 inches by 5.1 inches by 14.7 inches.
The DTW Par Z19 IP is an IP65-rated Par light that houses 19 15W 2-in-1 CW/WW LEDs. It includes a 5° to 45° motorized zoom and has an output of 13,247 LUX at 3.3ft. It features IP-rated DMX and power in/out connections and measures 15.9 inches by 12.0 inches by 15.6 inches.
The DTW Bar 1000 houses 12 10W multi-chip CW/WW/Amber LEDs. Its beam angle is 28° and each pixel is individually controllable for greater design options. Capable of outputting 6,425 LUX at 3.3ft, the fixture is outfitted with 3pin and 5pin DMX In/Out connections as well as RJ45 and powerCON Power In/Out connections. The DTW Bar 1000 measures 35.4 inches by 8.1 inches by 6.1 inches.
All three DTW Series fixtures are RDM ready.