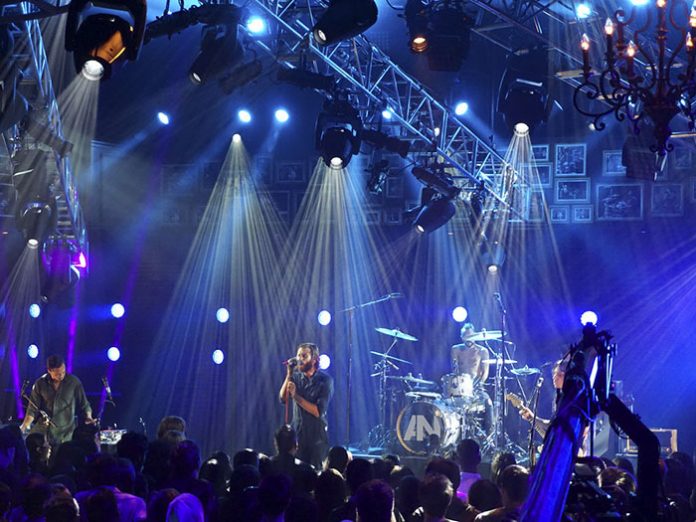 One of America's top television Lighting Designers, Victor Fable, used Elation's new Fuze Par Z120 IP LED wash light as part of a large Elation Professional lighting package on the recent AT&T Audience Network Music Concerts that aired exclusively on DIRECTV and AT&T U-verse. California-based Kinetic Lighting supplied the new LED wash light for the shows along with Elation's award-winning Platinum FLX hybrid moving head, Colour Chorus Series LED batten, and Elation's Platinum Beam 5R and Platinum Beam 5R Extreme moving head beam lights.
The AT&T Audience Network Music Concerts was the first outing for the new Fuze Par Z120 IP, one in a series of new LED lights from Elation that offers something unique in a Par fixture – single source RGBW COB colour mixing, an extremely homogenised field of light and a lens face that appears as one colour instead of individual LED diodes. "We stock the new Fuze Par Z120 wash because it achieves the look of a single source fixture with a large aperture and no other LED moving wash light on the market does that," commented David Rosen of Kinetic Lighting. "While most of the LED moving wash lights out there have multi-cell control and bubbles or rings across their displays, the Fuze goes in a completely different direction with its appearance. We can now offer our clients a totally different look, almost like fixtures from decades ago, while maintaining the colour-mixing and efficiency of an LED engine."
Available in moving head and IP65-rated Par versions, Lighting Designers value Fuze Series fixtures for their non-pixel look as well as their ability to wash a surface without the multi-shadows created from traditional LED wash fixtures. All Fuze Series fixtures offer useful design features including a wide zoom angle range, full 100% electronic dimming, variable dimming curves and high-speed strobe.
LD Victor Fable sought the custom looks that a digital light can provide and turned to his own stock of Elation EMOTION fixtures on the show to achieve the visual effects. "The advantage of using EMOTION is flexibility," Fable said. "Also it's simple to get up and running. It's like adding a moving light on visual steroids!" EMOTION came onto the market last year as a new generation digital light and has reignited excitement for digital lighting with its easier-to-use design and a price point that allows designers to do more with their budget. It is a plug-and-play DMX moving light just like a traditional moving light yet houses an on-board media server with royalty-free digital art and videos and the ability to upload custom content.
So they can offer their clients the flexibility of a hybrid solution, Kinetic Lighting stocks Elation's award-winning multi-functional fixture, the Platinum FLX, and added the fixture to their inventory earlier in the year. "For those clients with limited space and budget, they like getting a spot and beam in a single fixture," Rosen said of the 3-in-1 moving head. "It has the right mix of features – optics, form factor and price – and we get full CMY colour mixing in a hybrid fixture. But we're especially impressed with its output." The Platinum FLX features an innovative dual optical system for functionality as a spot, beam or wash effect and houses the Philips 470W Platinum 20R lamp for up to 20,000 lumens of power.
Another important part of Kinetic's investment was Elation's Colour Chorus Series of LED battens. The 4ft Colour Chorus 48 and 6ft Colour Chorus 72 versions were used on the AT&T Audience Network Music Concerts. "We were sold on the Colour Chorus because this line has great output and RGBA colour mixing that our most discerning clients love," Rosen said.
This was Kinetic's first year working on the AT&T Audience Network Music Concerts and the project proved a success. Kinetic's David Rosen sums up, "All of the Elation fixtures performed flawlessly," he said. "They also looked great on camera. LD Victor Fable had a lot of different looks to create over the course of the shoot and the Elation fixtures gave him tools to do that, with a variety of colours, textures, and beams. And all of the Elation fixtures are relatively lightweight and compact, so he was able to maximise the rig in the confines of the space." Master Electrician on the project was Kinetic Lighting's Asher Nelson.
Elation gear included 24 Fuze Par Z120 IP's, 24 Platinum FLX's, EMOTION digital light, 20 Colour Chorus 48's, six Colour Chorus 72's, 12 Platinum Beam 5R's, 14 Platinum Beam 5R Extreme and four eNode 8 Pro.