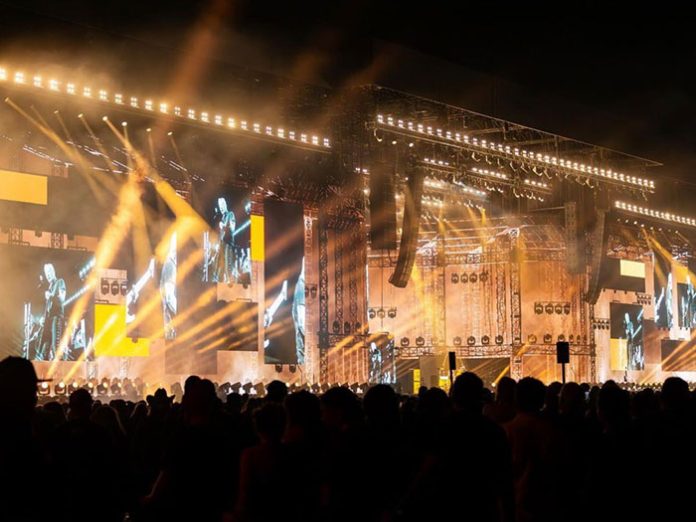 Some 80 Proteus Maximus, 18 Proteus Excalibur, 84 DTW Blinder 700 IP and 80 DTW Blinder 350 IP luminaires from Elation, were all used by the lighting design team at Paradox Production and Design and 4Wall Entertainment, led by 4Wall Account Executive and Production Manager, Dallas Gaspar.
Gaspar commented on the opportunity to be involved in such a monumental event: "It was amazing! I grew up listening to AC/DC and Metallica so it was a great full-circle moment for me to help design the stage that those bands signed off on and played on. I was awestruck by the production and when I discovered that the college I was attending, Cal State Fullerton, offered a lighting design program, I quickly changed majors," he shared.
At Power Trip, just two bands played extended sets each day on a single stage backed by a huge video wall. Potent lighting was needed to cut through, and as the festival was outdoors for several days it also needed to be IP65 reliable. "It was a huge show with intense rock bands so the power had to match the atmosphere and the hard-driving energy of the music," Gaspar stated. "We needed something that would work outside of just a defined space but cut through at long distances and both the Maximus and Excaliburs did that."
Paradox placed four staggered rows of truss pods overhead, each pod with three 20 ft sticks of truss along with a single 40 ft truss over stage. Additional were two sets of vertical trusses, each 40 ft tall. The Proteus Maximus, Elation's popular 50,000-lumen LED Profile, occupied the overhead, downstage and wing trusses as well as lined the large video wall, providing aerial effects and doubling up as key lighting.
The lighting team said they loved working with both lights and that the Excaliburs especially cut through. "It was my first time using them and I was impressed," Gaspar said. The Maximus he had used before but not in such large quantities. "They also cut through and looked great on camera for live IMAG shots of the band and audience," he said, noting that band LDs often used the Maximus zoomed out wide with a gobo or as wash.
The large number of DTW Blinders lined the video frame, as well as the vertical and overhead trusses, adding what Gaspar says was an old school rock blinder feel to the show: "The video was such a big statement that instead of trying to compete with it, I wanted to enhance it. The blinders in a straight line all the way around the video, mixed in with the movers, gave depth to the look and helped to contain the video wall without shrinking it," he concluded.