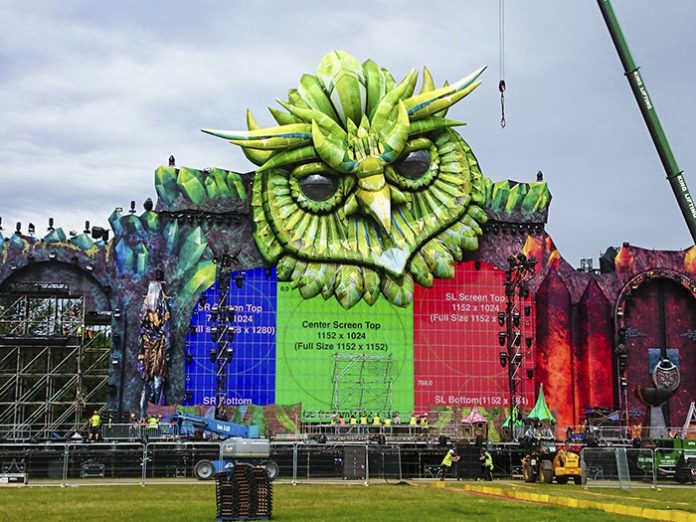 Serious Stages was tasked with producing a 30-metre tall by 70-metre wide stage structure, complete with cascading waterfalls, crystal towers and a giant owl's head, for this year's UK edition of Electric Daisy Carnival (EDC) in Milton Keynes.
The EDC owl incorporated 1,000 lighting fixtures, over 400 video tiles, 28 lasers, pyro and 15 CO2 cannons, and Serious Stages was entrusted to ensure the stage could withstand its weight-loading requirements.
Serious Stages also designed and built the stages' bespoke crystal towers.
To support the stage set and the three pyro platforms, the Serious Stages scaffolding was constructed using three heavy duty truss systems to ensure additional strength. With a surface area of 1,200 sq metres, in-house structural engineers carried out rigorous loading calculations to ensure the structure could withstand the wind speed and weight-loading capacities required, using over 100 tonnes of ballast. The structure was clad in EDC's stage set, which was shipped over from the USA.
Structural and engineering design was undertaken by in-house professionals.
Using as many standard components as possible, the only bespoke equipment required was for the rigging points and crystal towers, fabricated by Serious Stages' in-house team. The Senior Engineer on the project was Dragan Kuzmanov, and all the main design engineering was under his control. The main CAD Engineer was Julian Vowles who worked with the metal welders, and he was assisted by Edmund Knoedler.
Steven Corfield, MD at Serious Stages, commented: "This was our first year working on EDC and it was such a brilliant event to be part of. When is a stage not a stage? When it's an EDC creative platform.
"We're being asked more and more to help organisers give their event a unique look, and the stage at EDC certainly pushed the boundaries of what our in-house teams can deliver."
Serious Stages also supplied a FOH tower, two camera platforms and four asteroid delay towers.
EDC took place at Milton Keynes' National Bowl on Saturday 6 July 2016.