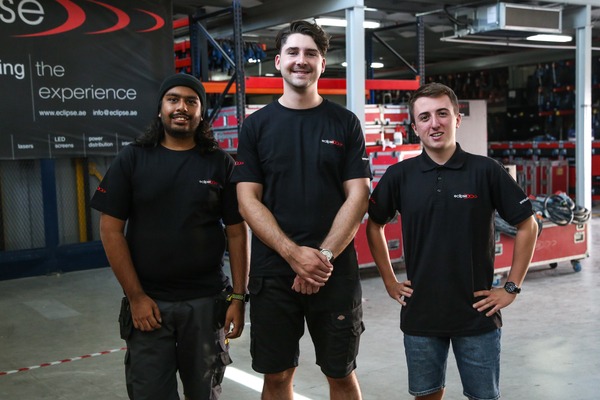 As part of eclipse Group's mission to promote education and advance the professional audio visual industry, the company welcome new interns to the team. The initiative is designed to advance education and assist with training the future leaders in the industry.
Launched in 2015 by eclipse Staging Services' General Manager, Martin Lubach, the internship program is focused on supporting undergraduate students, and meet the priorities of developing skills needed to accomplish their career goals.
Helping young and enthusiastic professionals from all over the world towards and into employment, interns have a chance to gain insight into how a leading multi-disciplinary provider of high-quality equipment and cutting-edge technology supports an event, right from initial concept stages to project management and event delivery.
The internship is open to students from local and international colleges who are looking to expand their technical skill set and gain real-world experience across a full spectrum of disciplines within the fast-paced events environment. Prior to starting their internship, the students are allocated a mentor who will play a crucial role in helping students learn what the work experience entails throughout the 6-month duration.
In 2017, interns from UK colleges such as the University of Derby, BRIT School and University of South Wales, have attended assisting the lighting and audio departments while gaining work experience in the Middle East and improving their skills with detailed on-the-job training in their preferred discipline.
eclipse Group Staging Services' General Manager, Martin Lubach, commented: "Our internship program is a very unique opportunity for college students to get experience and make an impact. During their time with us, we will continue to provide the inspiration and support they need to accelerate their career development and empower them to make a difference in their chosen careers. We are committed to continuous investment in talent and staff and believe in cultivating their capabilities to ensure success. We wish the new interns a productive, rewarding and professionally enriching learning experience."