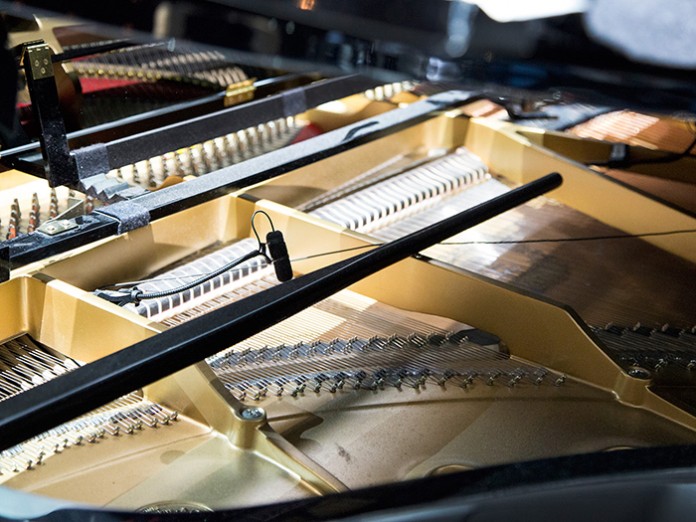 DPA's d:vote Instruments Microphones were used by all musicians taking part in Sinatra – The Man and His Music at the London Palladium.
The company played a key role in a highly unusual theatre project that marked the centenary of Frank Sinatra's birth by bringing him back to the stage of the London Palladium.
The multimedia show took footage of Sinatra's performances over his entire career and mixed them with a live 24-piece orchestra and a live cast of dancers. The result, which was described by reviewers as a cross between a tribute and a musical, was well received by audiences who packed the theatre for the show's limited run of three months.
DPA's role in this project was to provide amplification for all of the instruments in the orchestra and the band. Sound Designer Dan Samson chose d:vote 4099 Instrument Microphones because they offered exceptional audio quality and could also be used by every musician, regardless of the instrument they played.
"The musicians were one of the only live human elements in the show so it was important that they were not static," Samson explained. "We were trying to make it feel like a real concert, where the band was backing the real Frank Sinatra, so we wanted the musicians to move around and be part of the performance.
"We had them standing up for solos, standing on a pallet that formed part of the bandstand, performing shout choruses and generally being very visible to the audience."
DPA's d:vote 4099 Instrument Microphones were used across the entire range of instruments, from percussion, drums and bass to piano, the string section, woodwind and trumpets.
"They were undoubtedly the stars of the show," he said. "They are so versatile and come with such a great range of clips and mounts that we could use them on everything.
"Some of the microphones were connected wirelessly to our Shure radio system and they delivered a consistent signal regardless of their location, which meant that the musicians had complete freedom of movement.
"They also offered great isolation and, thanks to their tiny size, we were able to position them really close to the sound source without interfering with playability."
As an experienced sound designer who has worked on numerous shows such as Jesus Christ Superstar, Evita, The Glenn Miller Story, Joseph and the Technicolour Dreamcoat, Blood Brothers and The Sound of Music, Samson is very familiar with DPA's product range and uses them on all of his shows.
"d:vote 4099 Instrument Microphones are great for most instruments but I particularly like them on acoustic guitar because they sound so natural and warm," he elaborated. "They are versatile enough to mount on a range of different guitars and I have used them on steel acoustics, nylons and 12-strings, all with great success.
"The players love the way the guitars sound in their monitoring and are always pleased to see them."
Samson also uses d:dicate 2011C Cardioid Microphones for percussion, stating 'their ability to handle very high SPL and consistently sound great across a range of different instruments' as the main reasons for his choice.
"If I need a miniature microphone, I use d:screet 4061 mics or d:fine 4066 Headset mics," he commented. "The 4066 is better for rock and roll shows because of how consistently close to the source you can position them without compromising the sound quality. This allows for high levels of vocal foldback.
"The mics are also popular with performers because they are very comfortable to wear, even whilst the performers are dancing. They do a great impression of a rock vocal microphone but without the constraints of a handheld.
"The d:screet 4061, on the other hand, is much more suited to traditional shows because they deliver a really natural and detailed sound. They are also really easy to hide on a performer."
The 40-plus d:vote 4099 Instrument Microphones required for the Sinatra show were supplied by Cardiff-based Stage Sound Services, which has been a DPA advocate for over 10 years.
Managing Director Phil Hurley said: "From a rental point of view they are incredibly popular and are often specified by sound designers for a wide range of live sound and theatre projects.
"We have been supplying them since they were first introduced and we are really happy with their audio quality. As the range has developed they have become even more versatile because they can be used on so many different instruments."
Hurley added that Stage Sound Services has over 200 DPA microphones in its rental stock, including over 70 d:vote 4099 Instrument Microphones, over 50 d:fine Headset Microphones and a number of d:screet Miniature and d:dicate Recording Microphones.
"They are theatre staples," he concluded. "And frankly they are a very good rental earner so I am happy to invest in them."