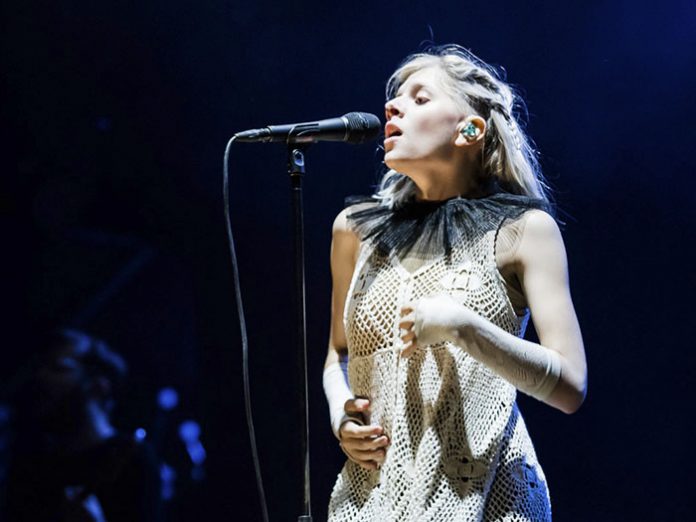 Norwegian singer-songwriter Aurora Aksnes is currently touring Europe with a full complement of DPA microphones that are being used to amplify her vocals, backing vocals and all of the instruments in her band. Capturing the haunting and ethereal quality of Aurora's voice was top of the list for her FOH Engineer Paul Inge Vikingstad and a key reason why he suggested using a d:facto Vocal Microphone for her live performances.
"The d:facto makes her voice cut through the mix, almost in a three-dimensional way. The 3dB soft boost at 12kHz gives nice air to vocals without boosting the s'es and the lack of handling noise every time Aurora takes the microphone off the stand is simply amazing." At present, Aurora is using a wired d:facto on a stand but her Monitor Engineer and Tour Manager Tomin Tollefsen says he's hoping to expand the production and make the d:facto wireless as well.
"Anders Faafeng, from DPA's Norwegian distributor Lyd-Systemer, helped us choose the right microphones," Tollefsen said. "Both Paul Inge and I have used DPA mics in the past and have always found them to be reliable. When I'm not on tour, I record acoustic music with a classical ensemble using my own d:dicate 4006 Omnidirectional and d:dicate 4011 Cardioid microphones. Incorporating DPA into a live environment really gives us the opportunity to bring studio quality sound to Aurora's live performance. We use d:facto Vocal Microphones for everyone who sings, not just Aurora, while the drum kit and guitar amp are exclusively amplified with d:dicate 2011C Twin Diaphragm Cardioid Microphones. In total we're touring with five d:facto, eight d:dicate and two d:vote 4099 Instrument Microphones – the latter being mainly used for floor tom or acoustic guitar when we're doing club shows."
Although synths and samples are an intrinsic part of Aurora's sound, Tollefsen feels that capturing the natural bass / guitar and drum sound is important, too. This, he says, along with great sounding vocals, is what makes the music stand out as organic and dynamic. To amplify the drum kit, Tollefsen mounts a d:dicate 2011C on an LP-clamp and positions it a few centimetres from the front hole of the kick drum. This gives him the kick sound he wants without having to put a microphone inside the drum. He is also using a d:dicate 2011C mic for the hi-hat, positioning it so that it also captures a small tambourine, which is vital to the sound of some songs.
"For the snare drum, we're using both an over and under mic," Tollefsen added. "Our drummer is very disciplined, so we can mount the top mic as close as we want to the drum without the risk of him hitting it. It really helps us capture that great low end from the snare, and after we started using DPA microphones virtually every local engineer we met asked us what mic we were using to achieve that great sound."
Amplifying the floor tom has been the subject of some debate because Tollefsen and Vikingstad can't decide if they prefer the d:dicate 2011C or the d:vote 4099 Instrument Microphone. "The 4099 is easy to position exactly where we want it, but the 2011C adds something extra that really responds well when we use it with large PA-systems. Both are great, so we use them interchangeably."
d:dicate 2011Cs are also being used as overheads because the musicians like them for their IEMs. "We're basically cutting a bit of low end, adding a bit of compression and just giving them a great overall mix of the drums. I'll blend in a little bit of the other mics as well, just for that extra punch," Tollefsen said.
Aurora's tour continues until the end of the year and takes in venues and festivals across Europe. Tollefsen is convinced that switching to DPA has made a huge difference because the sound team can now deliver consistency at each venue.