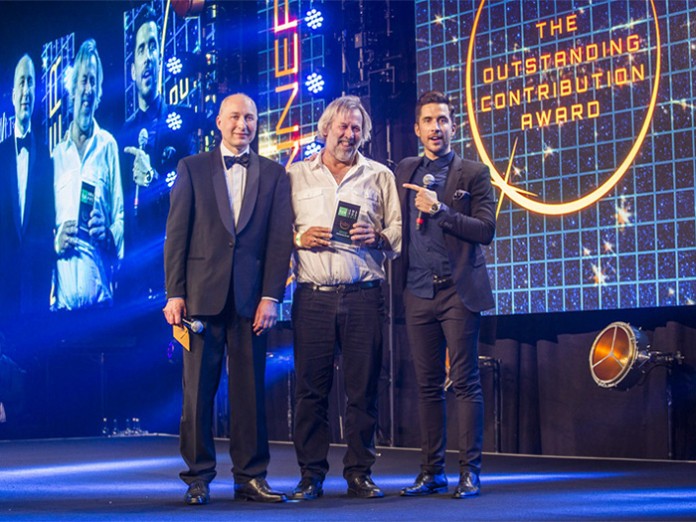 In the wake of its 30th anniversary year, Stageco was proud to receive the Favourite Staging Company accolade at the TPi Awards 2016 on 22 February at Battersea Evolution, London.
The event was hosted by comedian Russell Kane and attended by an audience of almost 1,400 people from across the live entertainment production industry.
On an evening that marked the 15th edition of the TPi Awards, the ceremony climaxed with the coveted Outstanding Contribution Award, an honour bestowed on Stageco founder and President Hedwig De Meyer, much to his surprise and delight.
David Rose, Managing Director of the category sponsor, Navigator Systems, opened the presentation with a brief account of Hedwig's career and achievements, and was followed by a two-minute video montage of celebratory comments from U2, Metallica's James Hetfield and leading Production Managers Wob Roberts (One Direction, Robbie Williams, Coldplay, Genesis), Jake Berry (U2, Rolling Stones, Electric Daisy Carnival, AC/DC) and Mark Spring (Paul McCartney, Madonna, Spice Girls).
A thrilled De Meyer said after the ceremony: "Being acknowledged by one's industry peers is one of the most satisfying experiences a professional can wish for, so I thank TPi magazine and its readers for their kind support. On behalf of my family and colleagues, I have been thrilled to accept awards for Stageco on several occasions over the years and, if anything, it's always a reminder that a successful company must continue to push the boundaries and strive to improve itself at every level. We have been doing just that for over 30 years and I hope that attitude never waivers."
The success at the TPi Awards follows in the footsteps of Stageco winning Staging Equipment of the Year at the 27th Annual Pollstar Awards earlier in February at the SF Masonic Hall in San Francisco.